American Folk Music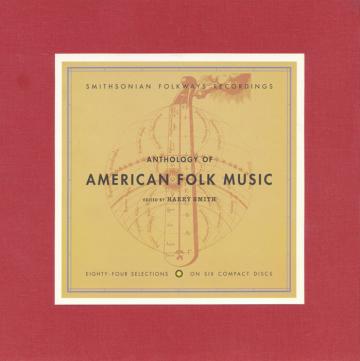 The Anthology of American Folk Music, edited by Harry Smith (1923–1991), is one of the most influential releases in the history of recorded sound. Originally issued by Folkways Records in 1952, the Anthology brought virtually unknown parts of America's musical landscape recorded in the late 1920s and early 1930s to the public's attention. For more than half a century, the collection has profoundly influenced fans, ethnomusicologists, music historians, and cultural critics; it has inspired generations of popular musicians, including Bob Dylan, Joan Baez, Jerry Garcia, and countless others.—Smithsonian Folkways
The Smithsonian is a rich source of information and historic collections related to American folk music. Smithsonian Folkways is home to both a significant collection of folk music recordings and also a rich history as a participant in documenting and supporting the growth of American folk. Visit the Albums page to explore a selection of the Smithsonian Folkways collections, or visit Smithsonian Folkways Recordings directly to browse on your own.
To see portraits of many of the key figures in the American folk music movement, visit the Musicians page. Most of these portraits are held at the National Portrait Gallery, and may be available to view there.
Some of these musicians also appear on the African Americans and Folk Music page. African American music is a vital part of the American folk genre. Although many of the key figures best known to represent the movement, such as Pete Seeger, Joan Baez, Alan Lomax, and Moses Asch, have been white, the music traditions on which they drew were frequently African American. Lead Belly is perhaps the best known name of the African Americans that helped define the genre, but in the collections here you'll also find portraits of Mississippi John Hurt, Odetta, and Joshua Daniel White, and music by Sonny White, Bill McAdoo, and Bernice Reagon, among others.
As the civil rights movement gained attention, folk music came to be associated with it and other political efforts. "We Shall Overcome" is particularly well-known as a civil rights anthem, and the title and song feature prominently in National Museum of African American History and Culture collections. Folk music also played an influential role in environmental political efforts and anti-war protests during the United States' engagement in Vietnam.
A number of instruments played by the artists mentioned above, along with those of less-known and unknown artists, are housed at the Smithsonian's National Museum of American History.