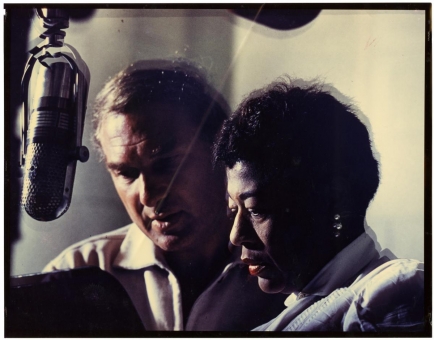 This page originally appeared on the National Museum of American History website for Jazz Appreciation Month 2018. 
Who is Norman Granz?
For Jazz Appreciation Month 2018, we are looking beyond the music to the dynamic ways jazz played a transformative role in social justice, musicians' rights, and equality.
Norman Granz (1918-2001) was one of the most influential impresarios in the 20th century jazz scene. Known to be fiercely loyal and brutally honest, Granz helped propel many jazz musicians, including Ella Fitzgerald and Oscar Peterson, to greatness. From 1944 to 1957 in the United States, Granz's famous "Jazz at the Philharmonic" concert series marked a shift from nightclubs to concert halls and revolutionized the way audiences listened to jazz, whether it was in the concert hall or through the first-ever commercially produced live recordings of the concerts.
Most importantly, Norman Granz devoted his life to civil rights and equality. During a time of racial tension, Granz recognized the power of music as a way to encourage desegregation. As a promoter and manager, Granz wrote nondiscrimination clauses into all of his musicians' contracts and insisted on playing integrated concerts, often threatening to pull the musicians if a venue segregated the audience. Norman Granz's devotion to civil rights, brilliance in music management and industry, and compassion towards his musicians deserves to be recognized for the impact he left on the jazz industry and all of the people he worked with.
Museum collections featuring Norman Granz
In addition to the Tad Hershorn Collection, which was donated to the National Museum of American History by Granz biographer Tad Hershorn, there are objects and archival material from other collections in the museum that also feature Norman Granz, including the Roy Brown Papers, Ella Fitzgerald Papers, the Duke Ellington Collection, and more.
See digitized collection items here.
Explore Norman Granz at the Museum
Performance: Norman Granz - A Producer's Legacy
Thursday, March 29, 7:30 p.m.
Wallace H. Coulter Performance Plaza, 1 West
Norman Granz was the primary source for the recording and dissemination of jazz from the 1940s-1980s. Throughout his unparalleled career, Granz produced recordings across a broad spectrum of artists including Lester Young, Miles Davis, Benny Carter, Billy Holiday, Dizzy Gillespie, John Coltrane, and Ella Fitzgerald. In 1944, he produced the first in his series of "Jazz at the Philharmonic" concerts in Los Angeles. The Norman Granz legacy is etched in all corners of the world as his unyielding efforts have elevated the status of jazz and put Granz in a class all his own.
Join us to hear the SJMO perform the music of jazz's greatest artists as presented by Norman Granz. The museum's Constitution Ave doors will open at 6:45 p.m. and the LeRoy Neiman Jazz Café will be open and serving light fare and drink options for purchase from 7 p.m. to 9 p.m. Food and drink are welcome at seats in the Performance Plaza. More details on the evening will be available soon.
Jazz Appreciation Month is made possible through generous support from:
The LeRoy Neiman Foundation
The Argus Fund
The Ella Fitzgerald Charitable Foundation
Goldman Sachs
The John Hammond Performance Endowment Fund
http://americanhistory.si.edu/smithsonian-jazz/jazz-appreciation-month/featured-…