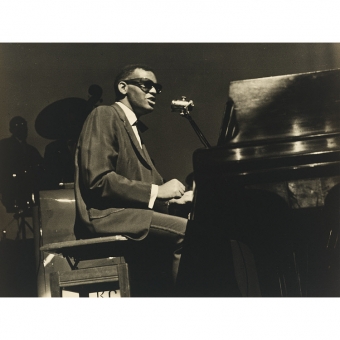 Ray Charles embodied the cultural traditions and performance practices of African American music—emphasizing sights, sounds and movement
By Dwandalyn Reece
Sitting at his piano bench, swaying side to side with his right foot keeping the beat, Ray Charles plays and sings to the congregation. His stirring rendition of "America the Beautiful," is a performance for the ages. It is a spiritual moment that captures our collective heart and soul.
In this instance as in many others, the music of Ray Charles was a bridge. And as a musician, Ray Charles came along at a time when a divided America needed him most. He defined a genre, a historical moment, even an era. 
My music had roots, which I'd dug up from my own childhood,
 musical roots buried in the darkest soil. [i]
—Ray Charles
Throughout his life and career, Charles shaped his own identity as a man and as an artist and revolutionized popular music. Against the backdrop of a rising black consciousness in the 1950s and early 1960s, he defined himself not only through his individuality and artistic sensibilities, but also with social and political statements that spoke to the larger community. Whether a political or cultural meaning was intended or not, through the music and its messenger, African Americans saw Charles through the lens of a collective struggle against racism and discrimination.
To many, Brother Ray—a name he sometimes used when speaking of himself in the third person and which became the title of his 1978 autobiography—was a source of inspiration and a symbolic figure. Struggling with poverty, discrimination, blindness, industry pressures and his own personal demons, Ray Charles—with his own sense of agency and his dignity intact—showed the world how individual freedom and recognition of one's humanity could transform lives.
I believe in mixed musical marriages, and there's no way to copyright
a feeling or a rhythm or a style of singing.
—Ray Charles[ii]  
As a musician, Ray Charles embodied the cultural traditions and performance practices of African American music—emphasizing sights, sounds and movement. The expressive and emotional dimension of the music grew from rhythmic contrasts and percussion, the body in motion, and the use of tonal patterns, speech, chant and song. All were integral to his music-making process.
Still, to Charles, music was simply music and genre boundaries were just invisible lines to be crossed and blurred. His musical heritage included a rich template of styles that were rooted in an eclectic mix of spirituals, gospel, blues, country, Tin Pan Alley, classical and jazz. His recordings "Drown in My Own Tears," "Let the Good Times Roll," "Georgia on My Mind," and the country classics "I Can't Stop Loving You" and "You Don't Know Me" demonstrate Ray at his genre-blending finest. 
And of course, there was soul. Ray is credited with inventing the genre by introducing gospel stylings into rhythm and blues, as he did in the 1954 classic "I Got a Woman."
Ray Charles defied labels and categories, asserting his musical artistry and creativity to establish a singular musical voice. In an industry where musical categories have long been marketed by race, crossing over from one genre to another had both an artistic and a social impact. Ray Charles challenged expectations of how black artists should sound and the kinds of music they should perform. The sheer scale of his talent appealed to audiences, black and white, bringing him unprecedented popularity and success.
Music is an art form, but it is also a business. For decades the music industry's exclusionary practices and racist attitudes created barriers that few could cross whatever their capabilities or talents. A few pioneers opened the doors through which others followed. Across all facets of the business— songwriters, recording artists, music publishers, promoters, and later entrepreneurs who formed their own record labels and radio stations, those few carved a place for themselves and African American music and achieved creative and financial success as players in the field.
Ray Charles obtained creative license in his contracts with Swingtime and Atlantic Records. However, in 1959, his deal with ABC Records gave him full control over his masters, and his own record label—Tangerine—a groundbreaking agreement that afforded Charles a creative and financial control that no other musician, black or white, had ever achieved.
Sometimes you need drama to drive home your message.
—Ray Charles  [iii]
There is a long history of African American musicians using their artistic talents and high profile to make bold public statements. Public Enemy, Kendrick Lamar, John Legend, Janelle Monae and Beyoncé continue that tradition.
Some artists fight for social change throughout their careers because they believe their public prominence brings a social responsibility. Others may be moved to speak out on a particular topic or situation. And activism often influences the music itself, as well as how and where artists perform. A musician's success in this arena plays a crucial role in bolstering community solidarity and encouraging social action. 
Ray Charles was one of the first to reject Jim Crow laws in the south. On one notable occasion in Augusta, Georgia, in March 1961, he learned the theater seating was to be segregated. Ray Charles refused to perform. Charles stood his ground, and was sued and fined for breach of contract.
But to the black community, indeed to the world, the pioneering performer became a cultural touchstone—Brother Ray Charles showed us how to find our voice and have control over our own destiny.
Dr. Dwandalyn Reece is Curator of Music and Performing Arts at the Smithsonian's National Museum of African-American History and Culture, where she is responsible for research and collecting in the area of music and the performing arts. Dr. Reece has held the positions of senior program officer at the National Endowment for the Humanities, Assistant Director of the Louis Armstrong House and Archives, Chief Curator at the Brooklyn Historical Society and Curator at the Motown Historical Museum in Detroit.