Short Articles and Blog Posts
Smithsonian Collections Related to American Folk Music
The Smithsonian is home to a number of primary resources chronicling the history and legacy of American folk music. Moses Asch was instrumental in much of the folk music revival, and along with his wife, left a large collection of archival material in the Smithsonian's care, the Moses and Frances Asch Collection. The four additional collections shown below also include photographs, sheet music, and paper that document the history of the folk music revival. 
Many of the museums and cultural centers at the Smithsonian care for objects or music that are part of the history of folk music in America. Some are from the folk revival, others remember folk music in situ, as it were, having been used or created in conjunction with the performance of American folk music. Some of these can be seen below in the slideshow, or explored further by visiting our selection of American Folk Music objects. 
Diana Davies Photographs, 1963-2009
Diana Davies is a well-known photographer of folk performers and festivals. Davies photographed the Smithsonian Folklife Festival in its earlier years…. Davies' folk photographs represent about one-quarter of her body of work; her other major photographic work includes the Civil Rights Movement, the Peace Movement, and theater. 
Lee Hays papers, 1923-1981
Lee Hays (1914-1981) was an influential American singer, songwriter, author, and activist. His legacy, both literary and musical, emphasizes the dynamic relationship between traditional culture and contemporary events and issues. The Lee Hays papers, which date from 1923-1981, contain personal and business correspondence; typescripts of Lee Hays' fiction, non-fiction, scripts and poetry; miscellaneous project and idea materials; business documents; and audiorecordings made by Lee Hays. 
Sam DeVincent Collection of Illustrated American Sheet Music
DeVincent collected sheet music and related materials during most of his lifetime. His interest included both the music and the cover art. The collection originally included 781 boxes of American sheet music and assorted clippings, articles, photographs, etc.; also 93 boxes of 33-1/3 RPM phonograph records, 30 boxes of 45 RPM records, and 20 boxes of 78 RPM records. Organized by topic, Series 3 is the section on African American Music, and Series 16 holds Country, Western, and Folk Music. There are twenty-four series in the collection at this time. 
Read more about the Sam DeVincent Collection of Illustrated American Sheet Music...
The Robert C. Malone photographs, 1957-1961
The Robert C. Malone photographs document the performances of folk singers. The collection dates from 1957 to circa 1961. During the late 1950's and early 1960's, Mr. Malone moved between Chicago and New York photographing folk singers such as the Weavers and Cisco Houston.
Read more about the Robert C. Malone photograph collection here... 
Selected American Folk Music Collections
Recordings of American Folk Music
The Smithsonian's record label, Smithsonian Folkways Recordings, is "dedicated to supporting cultural diversity and increased understanding among peoples through the documentation, preservation, and dissemination of sound" (Mission and History, Smithsonian Folkways Recordings). American folk music was among the earliest music documented by the label, and remains an important part of the Smithsonian collection. The albums shared below are a selection of the many American folk albums available through Smithsonian Folkways Recordings, and can be sampled or purchased by clicking on the album thumbnail to visit the Smithsonian Folkways website. 
Additional Resources
Additional resources for understanding and exploring American folk music can be found across the institution. Here are a few of the resources available.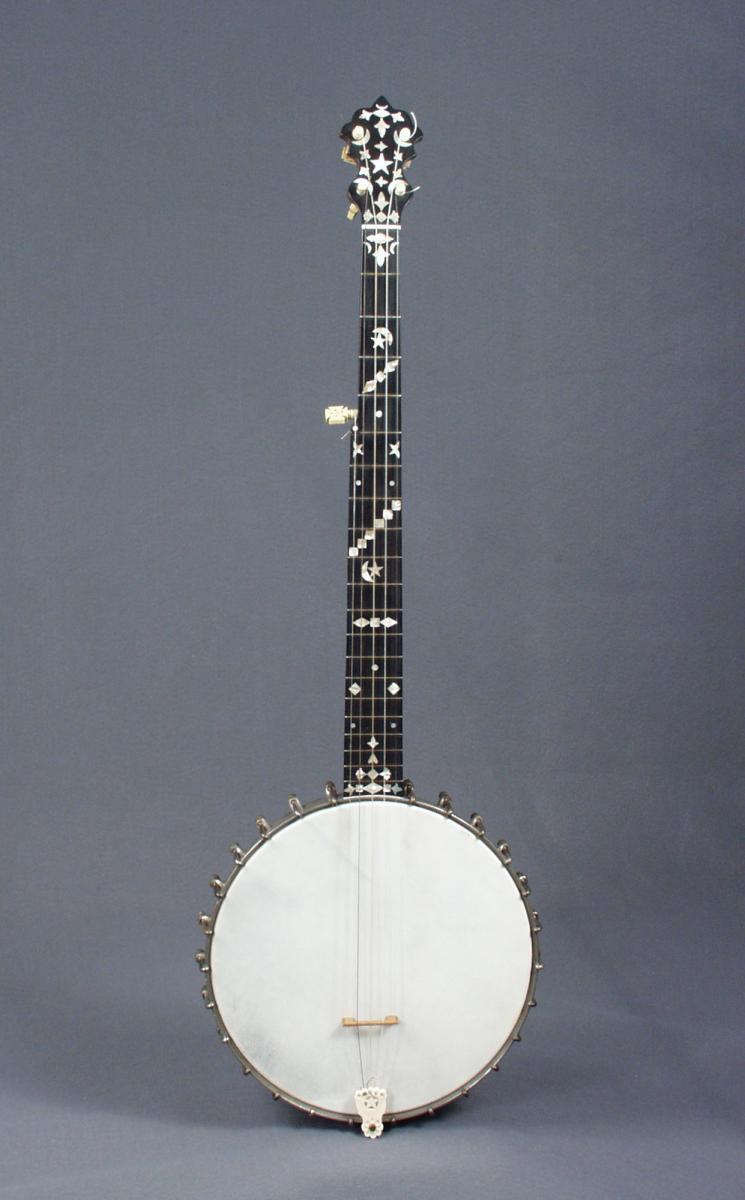 Smithsonian Music Banjo Spotlight: A spotlight on banjos at the Smithsonian Institution, highlighting collections and resources relating to the banjo, and featuring videos by Smithsonian staff member and banjo scholar, Greg Adams.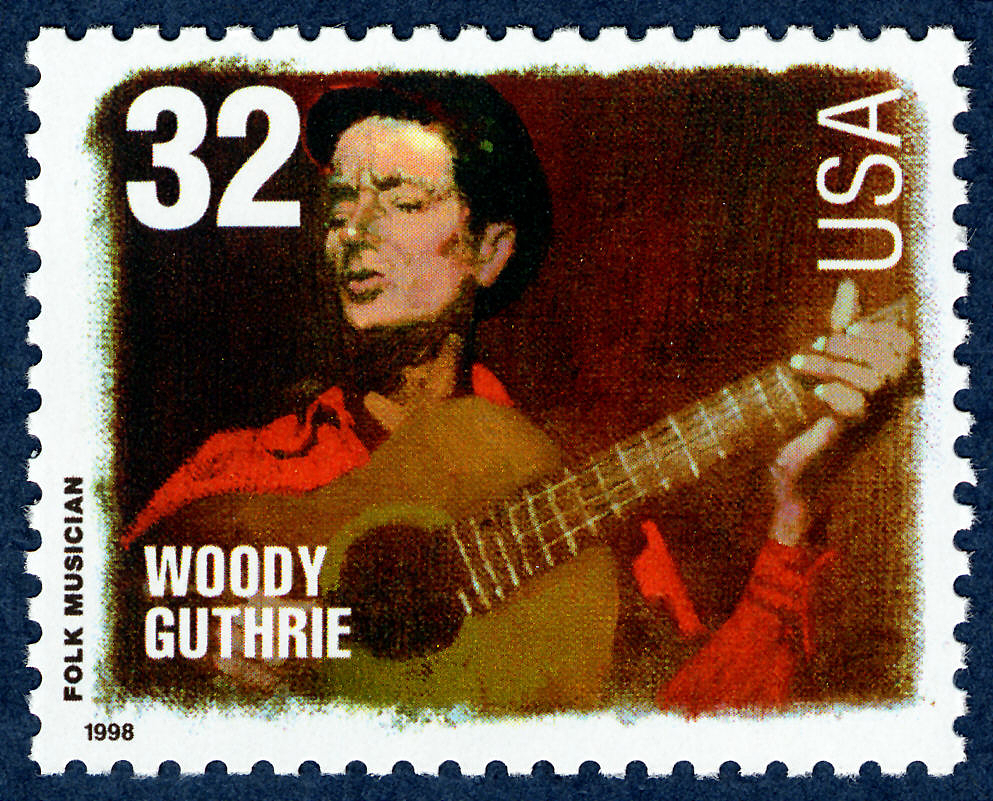 This Land Is Your Land: The Life and Legacy of Woody Guthrie (Smithsonian Institution Traveling Exhibition Service, toured from 1999-2002; presented at the National Museum of American History May 26, 2000 – September 24, 2000): "This Land is Your Land explored the life and work of one of America's greatest folk heroes, Woody Guthrie. Poet, singer, artist, and humorist, Woodrow Wilson Guthrie left dust-bowl poverty to commence a life of music and adventure that never lost ties to the less-advantaged in American society. His deep empathy for the common man infused his music with purpose and sparked a life-long dedication to social activism. Woody was a traveling folklorist, collecting cowboy songs, mountain ballads, religious music, blues, and work chants and then blending these styles into more than 1,000 original songs, each revealing an aspect of the American soul" (SITES Archive). 
The exhibition traveled around the country for three years, including a stop at the Smithsonian's National Museum of American History. More information on the exhibit can be learned from visiting the SITES Archive or visiting the Woody Guthrie website exhibition archive (the previous link directs to a website not affiliated with the Smithsonian).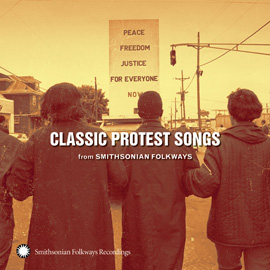 Educational Materials and Lesson Plans: The Smithsonian Institution offers collections-based lesson plans available to educators free of charge. A number of these are centered around American folk music, including, but not limited to, the following examples.