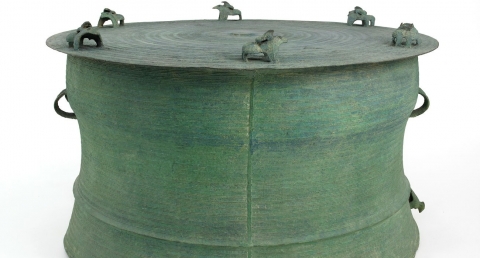 by Michael Wilpers
The Smithsonian's biggest drum does not come from a world culture well known for oversized percussion instruments. It did not originate in Japan, where taiko drums can weigh as much as 900 pounds, nor is it associated with the great powwow drums of the Plains Indians or the booming bass drums of Western marching bands. Instead, it can be traced to the ancient minority groups once located in the mountains of southern China and northern Vietnam.
Dating from about the 8th century, the giant bronze drum in the permanent collection of the Freer Gallery of Art features a drumhead that is nearly four feet in diameter. All of its parts are made of bronze, including the head, sides, and decorative animal figures. It is typical of ritual drums used in prehistoric times (and occasionally even today) by mountain tribes in the Guangxi Zhuangzu Autonomous Region, an area of China bounded by Yunnan Province to the west and by northern Vietnam to the south. The bronze drum's concave silhouette, fine surface decoration―including a sun on the top and repeated narrow rows of abstract birds on the sides―and raised figures of frogs are all associated with ancient drums found in this region.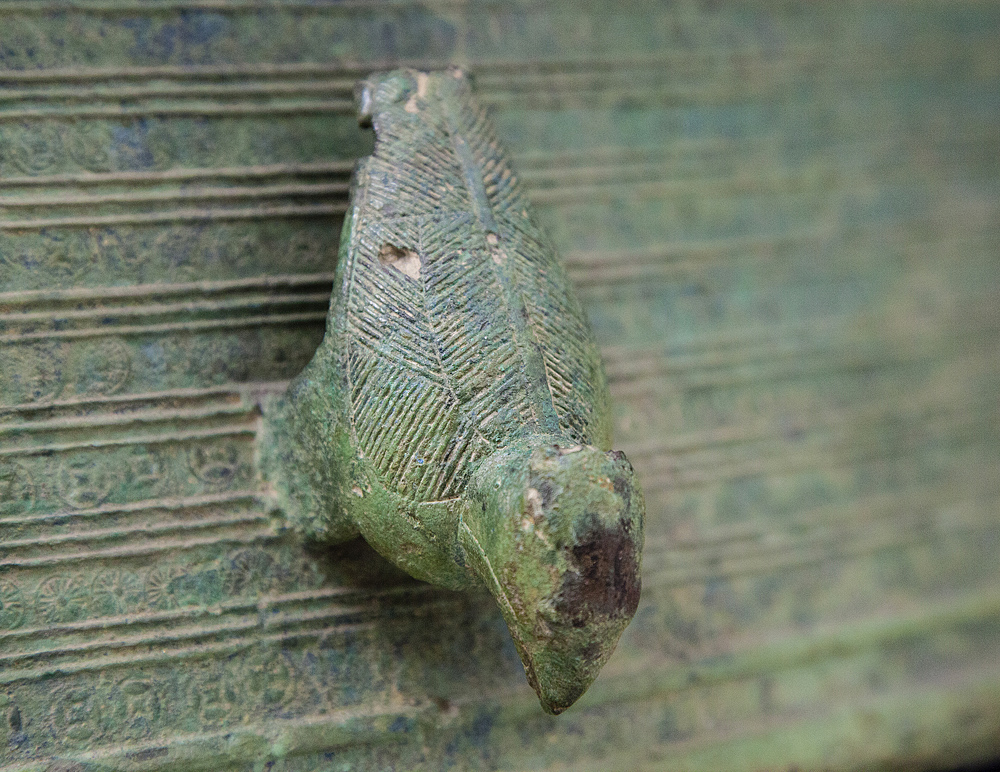 Drum of Lingshan type. Bronze. Guangxi province, China. Tang dynasty or earlier (6th-early 8th century). Gift of the Chow Foundation in memory of Virgina and Edward Chow. Freer Gallery of Art, Smithsonian Institution.
Unique to ancient Southeast Asia, such bronze drums first appeared about 500 BCE among the early Ðông Son culture, which straddled the modern border between China and Vietnam. From there, the technology for making bronze drums spread throughout the Chinese provinces of Guangdong, Guangxi, Guizhou, and Sichuan, as well as Vietnam, and it eventually spread to Laos, Cambodia, Thailand, Myanmar (Burma), and the islands of Indonesia, from Sumatra to Timur (near Papua New Guinea).
Five or six basic types of these drums have been found in archaeological dig sites across the region. Across their vast distribution, they are called by different local names, such as tong gu in southern China and Ðông Son drums in Vietnam. A few minority groups still play bronze drums, including the Muòng of Vietnam, the Karen people of the mainland Southeast Asian mountains, and tribes on the Indonesian island of Flores (near Australia). On the modern musical stage, replicas of ancient bronze drums have been used in concerts in Vietnam since the late 1970s.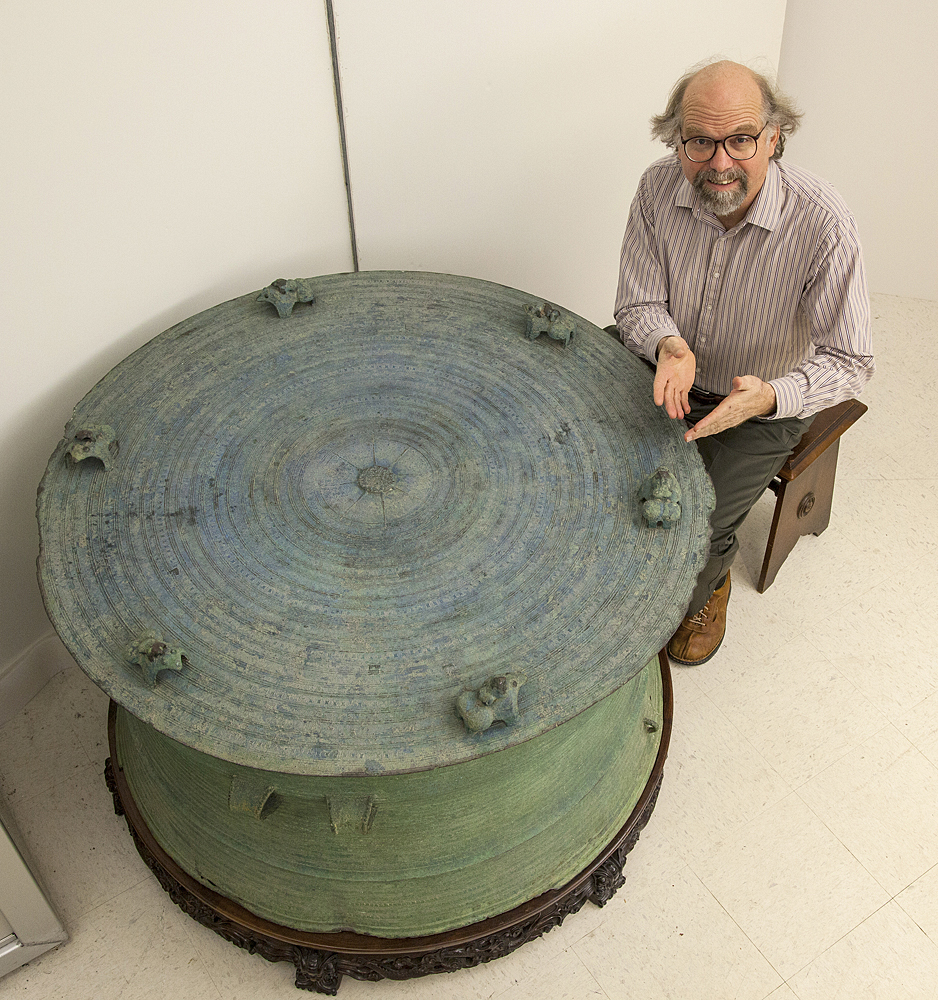 By studying these ancient bronze drums, scholars are endeavoring to sort out the complex history of music and culture in prehistoric Southeast Asia. Images on some of the instruments show an ensemble of drums of graduated sizes, with one musician playing each drum. This arrangement suggests to some scholars that the modern gong-chime orchestras of Southeast Asia (the most elaborate of which feature dozens of bronze percussion instruments) may have their roots in these ancient bronze drum ensembles. Centuries later, gamelan ensembles from Java and Bali, for instance, are popular around the world and are reaching new audiences through international music festivals, such as those presented jointly by the Embassy of Indonesia and the Freer Gallery of Art and Arthur M. Sackler Gallery in 2013 and 2014.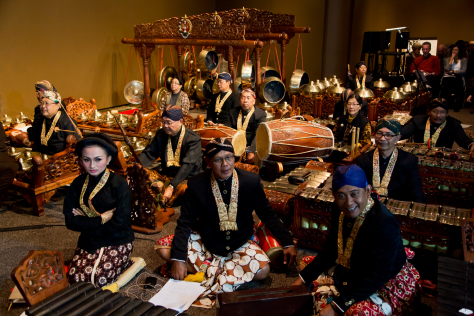 Michael Wilpers is manager of performing arts at the Smithsonian Freer and Sackler Galleries. He wrote this piece referencing documentation by Jenny So on the collections of the Freer and Sackler Galleries; articles in T. E. Miller and S. Williams, Southeast Asia, vol. 4 of the Garland Encyclopedia of World Music (New York, 1998); A. J. Bernet Kempers, The Kettledrums of Southeast Asia (Rotterdam, 1988); Xiaorong Han, "Who Invented the Bronze Drum: Nationalism, Politics, and a Sino-Vietnamese Archaeological Debate of the 1970s and 1980s," in Asian Perspectives 43, no. 1 (2004); and A. Thrasher, "Bronze Drum," in Oxford Music Online (accessed December 2014).
Related
Podcast: Javanese Gamelan from Yogyakarta
Podcast: Shimmering Sounds from Bali: The Gamelan Ensemble of the Indonesian Institute of the Arts
Documentary from Elsewhere: "Journeys in Time: Unique Handicrafts: Bronze Drums" from CCTV (Chinese Central Television), 2013