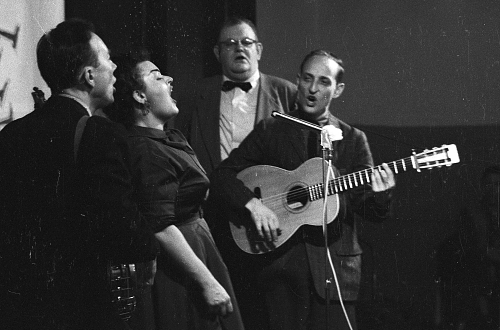 This is an excerpt from the resource guide for the Robert C. Malone photographs, 1957-1961, in the Smithsonian Online Virtual Archive.
The Robert C. Malone photographs document the performances of folk singers. The collection dates from 1957 to circa 1961. Photographic materials include 16 rolls of negatives, contact sheets made from the negatives, and 14 prints. The photograph collection features photographs of the Weavers and Cisco Houston. The collection also includes a small amount of correspondence, including two letters from Robert C. Malone to the Center for Folklife and Cultural Heritage concerning the donation of the collection, and two letters from Lee Hays to Robert C. Malone. A handful of Malone's prints are housed with the Lee Hays papers in the Rinzler Archives and are not included in the finding aid.
Robert C. Malone is currently retired and living in Ridgewood New Jersey. During the late 1950's and early 1960's, Mr. Malone moved between Chicago and New York photographing folk singers such as the Weavers and Cisco Houston. Through contact with Robert Koppelman, a scholar working with the Lee Hays Papers in the Rinzler Archives, Robert C. Malone heard about the Archives and wrote to offer his photos to the Archives collections.