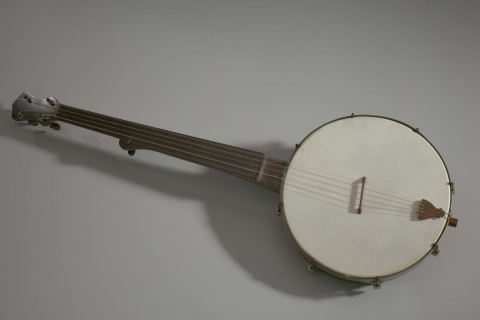 Roots in Africa
by Steven Lewis
Describing the African-American influence on American music in all of its glory and variety is an intimidating—if not impossible—task. African-American influences are so fundamental to American music that there would be no American music without them. People of African descent were among the earliest non-indigenous settlers of what would become the United States, and the rich African musical heritage that they carried with them was part of the foundation of a new American musical culture that mixed African traditions with those of Europe and the Americas. Their work songs, dance tunes, and religious music—and the syncopated, swung, remixed, rocked, and rapped music of their descendants—would become the lingua franca of American music, eventually influencing Americans of all racial and ethnic backgrounds. The music of African Americans is one of the most poetic and inescapable examples of the importance of the African American experience to the cultural heritage of all Americans, regardless of race or origin.
Given its importance in American history and culture, exploring the history and impact of African American music is a key part of the mission of the National Museum of African American History and Culture. Music occupies a unique place in the museum both because of its importance in its own right and the integral role that music and musicians played in all aspects of African American history, from civil rights struggles and religious ceremonies to social commentary and community building. Musical Crossroads, the permanent music exhibition at the NMAAHC, explores this history through the lens of five central themes: Roots in Africa, Hybridization, Agency and Identity, Mass Media & Entertainment, and Global Impact and Influence.
The most distinctive features of African-American musical traditions can be traced back in some form or other to Africa. Many of the expressive performance practices seen as synonymous with African American music, including blue notes and call-and-response, have their roots in techniques originally developed in western and central Africa before arriving to the United States via the Middle Passage. Over the centuries, African American musicians have drawn on the ancestral connection to Africa as a source of pride and inspiration. One of the most evocative illustrations of this connection from the NMAAHC collection is a wooden drum originally used in the Sea Islands off the coast of South Carolina, probably in the 19th century. As an American manifestation of an African musical tradition, the drum illustrates one of many ways that African culture persisted in the United States, even during the long night of slavery.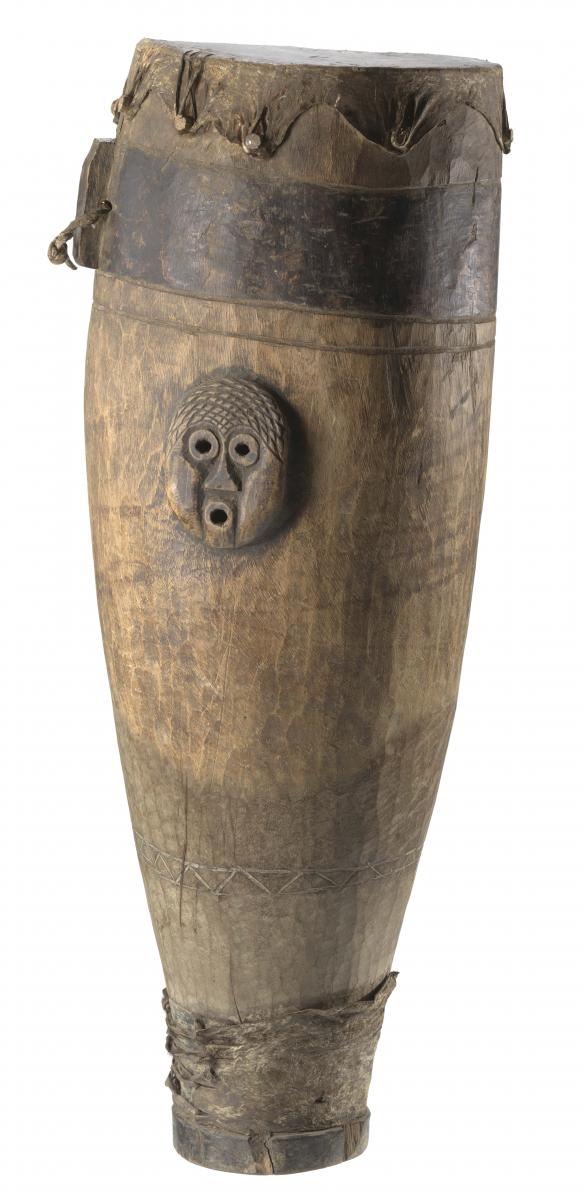 Hybridization
Although the African elements of African American musical culture remain strong, the music of African Americans is a hybrid of the musical traditions of Africa, Europe, and Native American cultures, along with other influences from around the world. This process, which began in the 17th century with the arrival of the first enslaved Africans at Jamestown, continues into the present as black musicians continue to draw on diverse influences to create new sounds. It is this hybridity that makes African American music a distinctly American phenomenon. A nineteenth century banjo in the NMAAHC's Slavery and Freedom exhibition is a vivid example of the fusion of African and European musical traditions that African Americans created in America.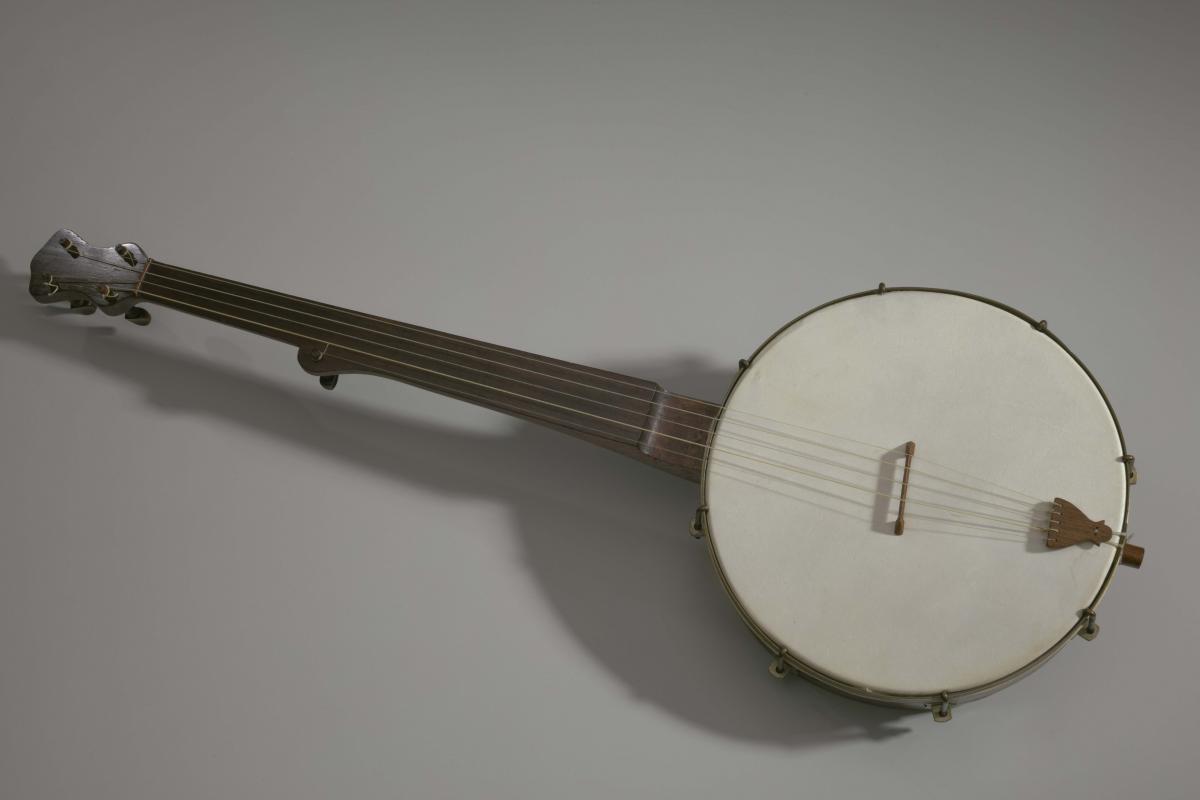 The banjo was one of the most important instruments in early African American music, and though seldom associated with African Americans in contemporary popular culture, it is a classic example of the way that African Americans blended African and European musical traditions together in the United States. The earliest banjos were likely based on West African lutes. Over the course of centuries, banjo makers gradually adapted their instruments to conform to European tuning systems, resulting in a truly American instrument that incorporated Western music theory even as its design recalled its African models.
Jazz is another iconic example of African American musical hybridity that occupies a central position in the Musical Crossroads gallery. In the late 19th century, African American musicians combined popular songs and marches with African American folk forms like ragtime, sacred music, and the blues to create a new form of heavily syncopated and improvisatory music. Jazz, as the music came to be called, today occupies such a central place in America's cultural heritage that many fans and scholars call it "America's classical music." The Musical Crossroads gallery tells the stories of jazz musicians through their music and through objects such as a suit jacket designed for jazz innovator and fashion icon Miles Davis.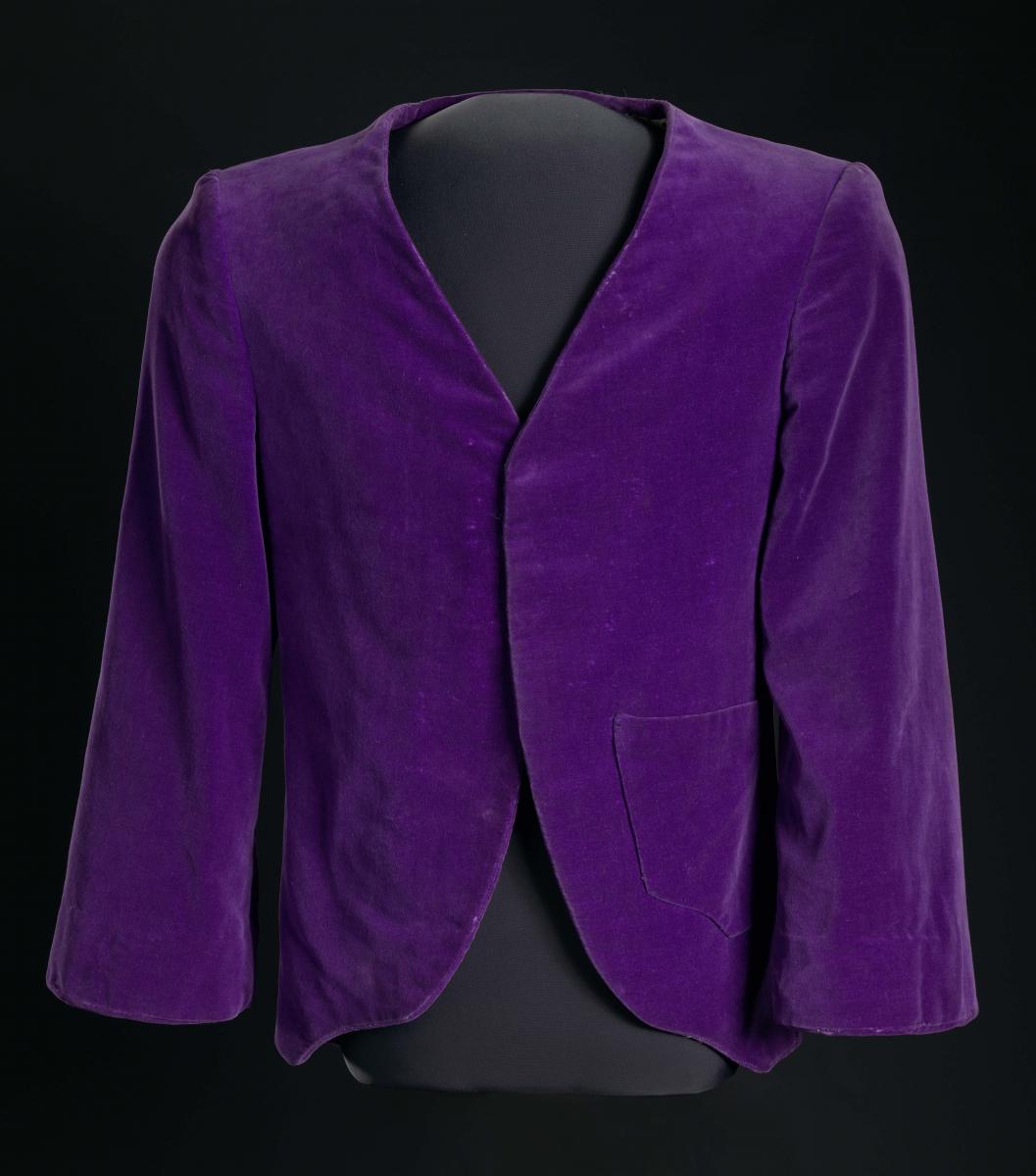 Agency and Identity
Musical Crossroads uses objects to explore the ways in which African American musicians and music lovers exercised personal agency and asserted their identities even in the face of daily humiliation and oppression by the American mainstream. Music played a central role in the African American civil rights struggles of the 20th century, and objects linked directly to political activism bring to light the roles that music and musicians played in movements for equality and justice. A ticket to a 1963 concert of the Student Non-Violent Coordinating Committee(S.N.C.C.) Freedom Singers for example, immediately calls to mind the important role that music played in lifting the spirits of activists during the Civil Rights Movement of the 1950s and 1960s. The outfit associated with Marian Anderson's legendary 1939 performance at the Lincoln Memorial highlights another musical blow to entrenched racism. After the Daughters of the American Revolution denied her use of Washington, DC's Constitution Hall because of her race, Anderson gave a concert at the Lincoln Memorial to an audience of 75,000 people. The skirt and re-designed jacket from that concert evoke her historic performance.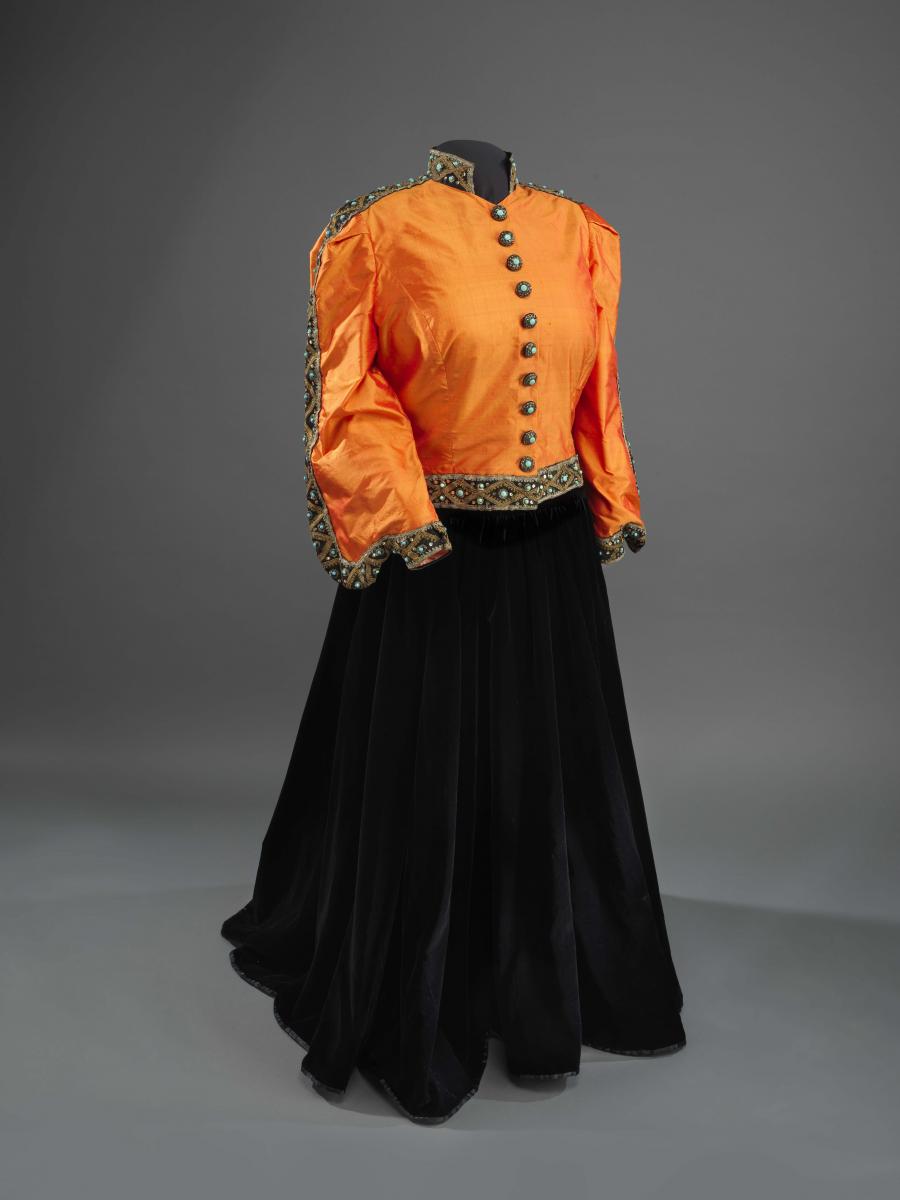 Other objects in the Musical Crossroads gallery explore the creative agency that many African American artists use to challenge fixed notions of African American identity. There have always been black musicians who—in spite of overwhelming commercial pressure—insisted on remaining beyond category. The utterly unique singer, songwriter, and multi-instrumentalist Prince was one of those fierce iconoclasts. From the start of his spectacular career, Prince struggled for commercial autonomy while defying racial, gender, and genre norms with his uncategorizable music.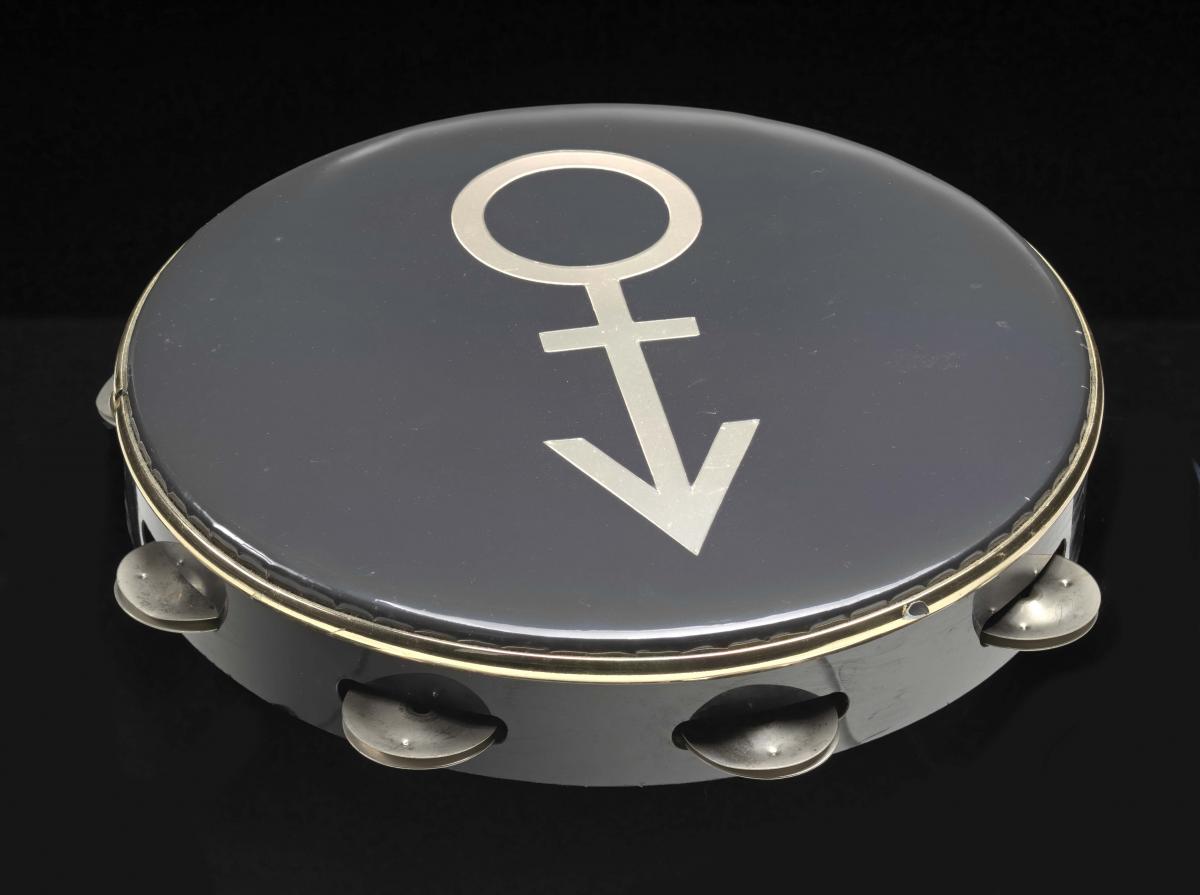 Similarly, the Black Rock Coalition has spent decades debunking the stereotype of rock as "white" music by highlighting rock's origins in African American culture and showcasing contemporary black rock musicians. This drum belonged to Will Calhoun, a member of BRC-affiliated rock band Living Colour.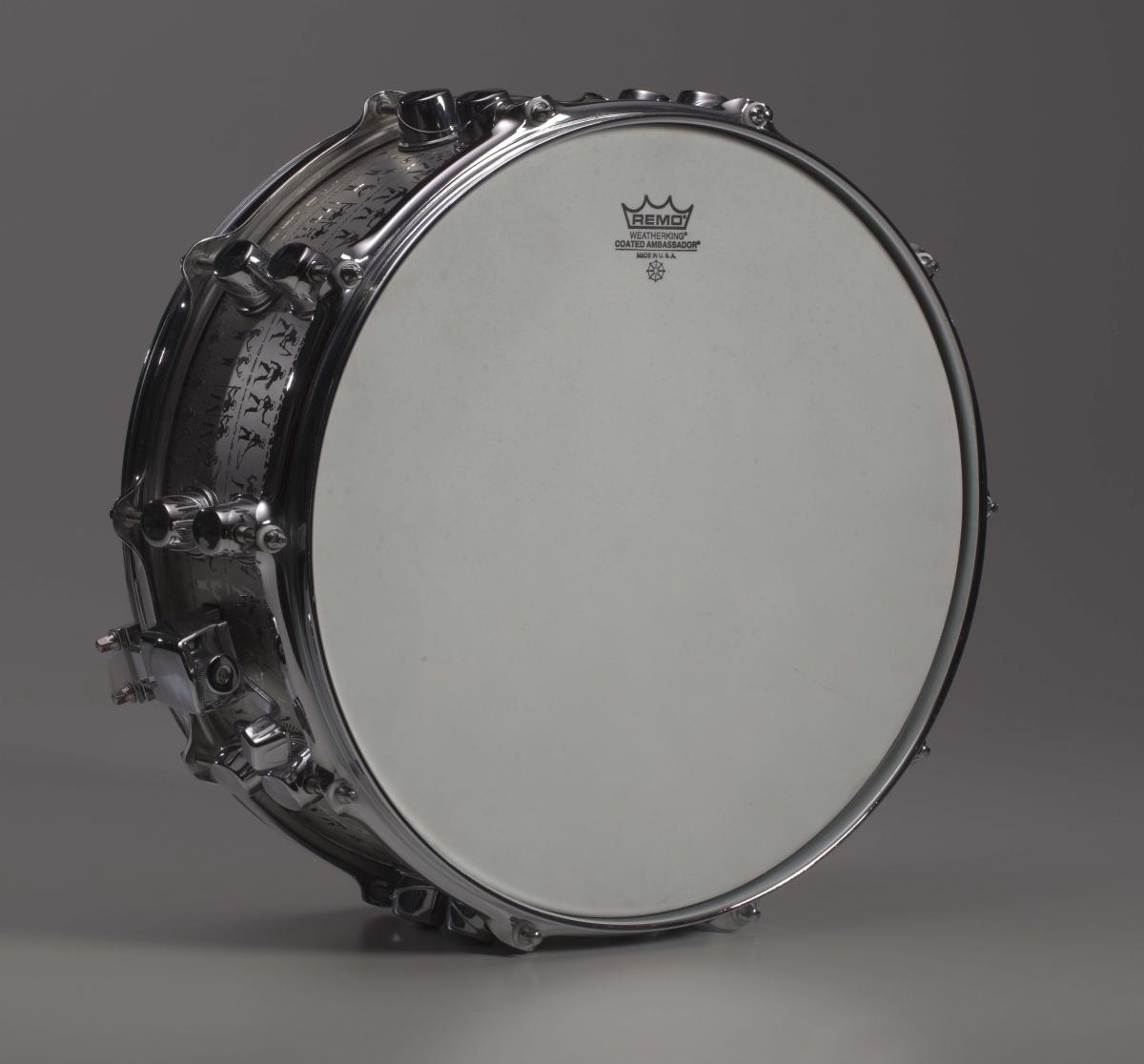 Mass Media & Entertainment
The appearance and development of the mass media and entertainment industries in the early 20th century was perhaps the single most important factor in the worldwide popularity of African-American musical forms that developed after the Civil War. The objects connecting mass media technologies to African American life and culture stretch across nearly a century of history, encompassing a broad swath of American history and technological developments. Musical Crossroads presents items ranging from a phonograph owned by an early 20th century black family to the MIDI Production Center and Minimoog synthesizer used by trailblazing hip hop producer J Dilla.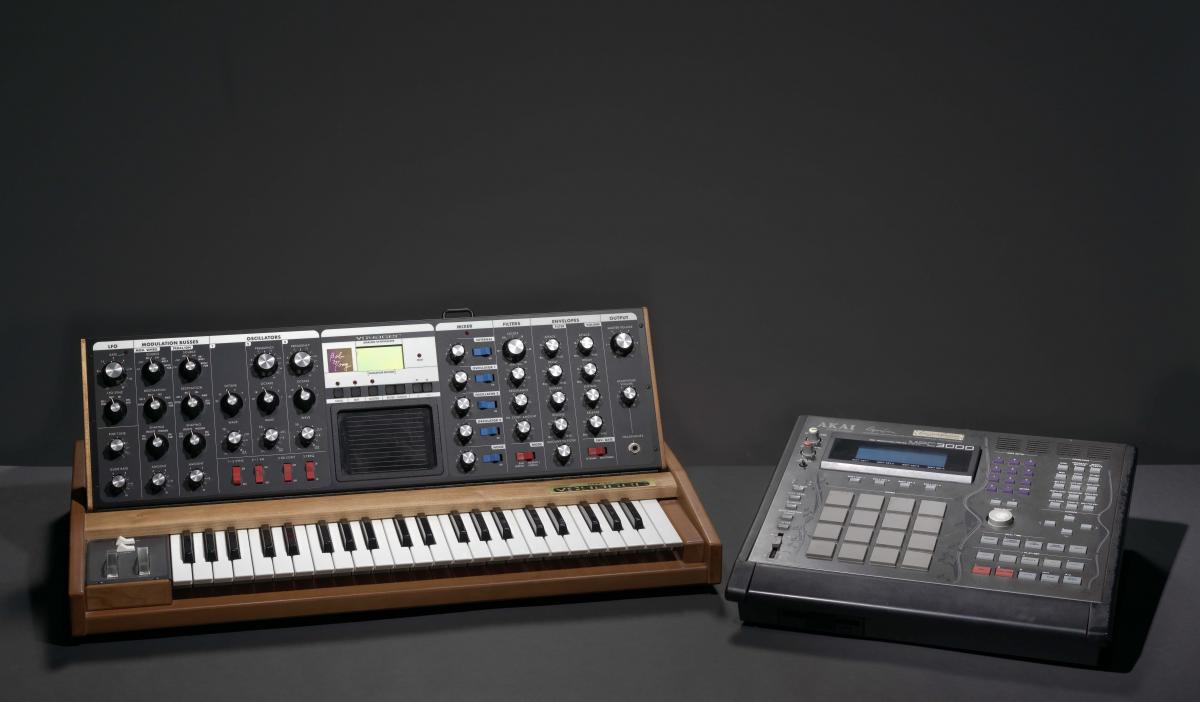 Other objects, like the Soul Train Artist of the Decade trophy awarded to Whitney Houston [Photo Soul Train Award2014.161.5] or the microphone box used on early hip-hop TV show Video Music Box [Microphone Box 2015.188], point to television's importance as a medium for African American music.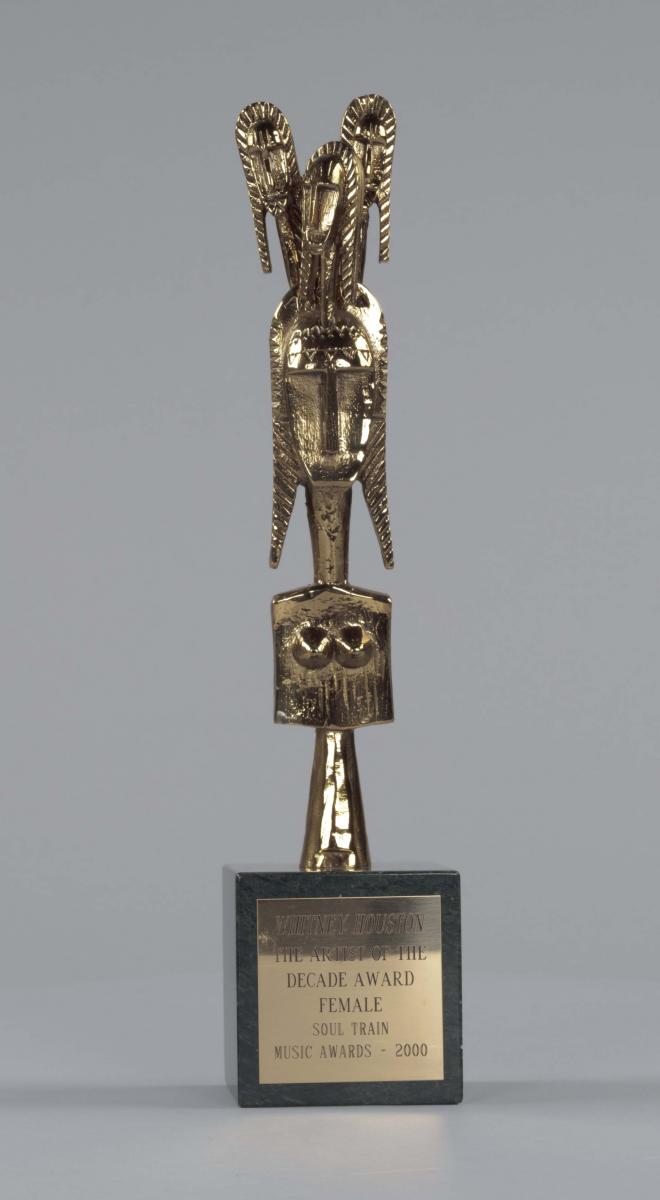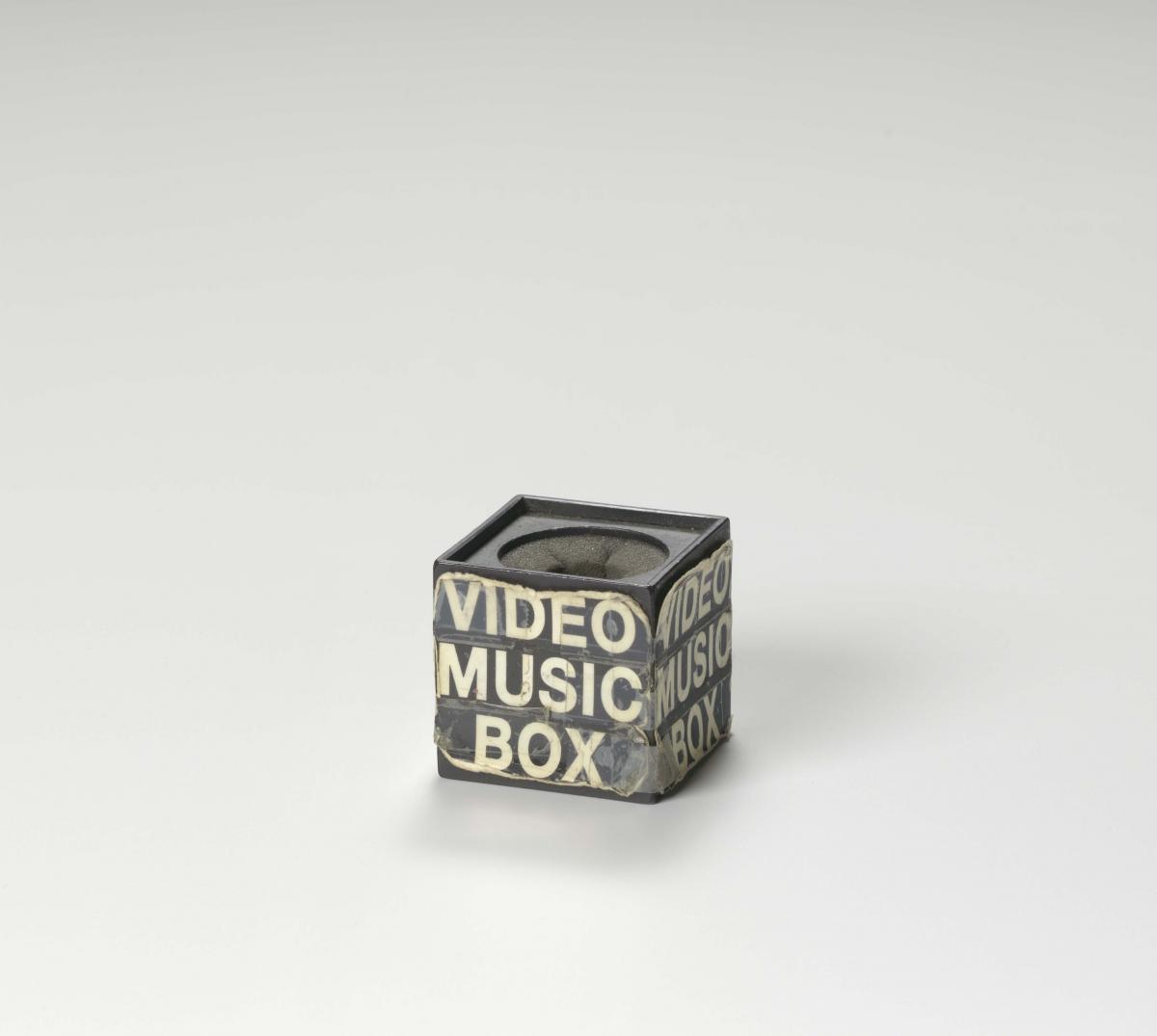 Global Impact and Influence
In addition to their fundamental influence on American culture, the stories about African American music being told in Musical Crossroads had a seismic impact on world musical culture. Because of mass media technologies and the broad influence of American culture on music around the world, African Americans' musical innovations have influenced artists in almost every corner of the world, and there are enthusiastic international audiences for black musicians. Promotional materials from international tours by African American artists including Lena Horne and the Black Rock Coalition demonstrate the impact that practitioners of African American music have had on global popular culture.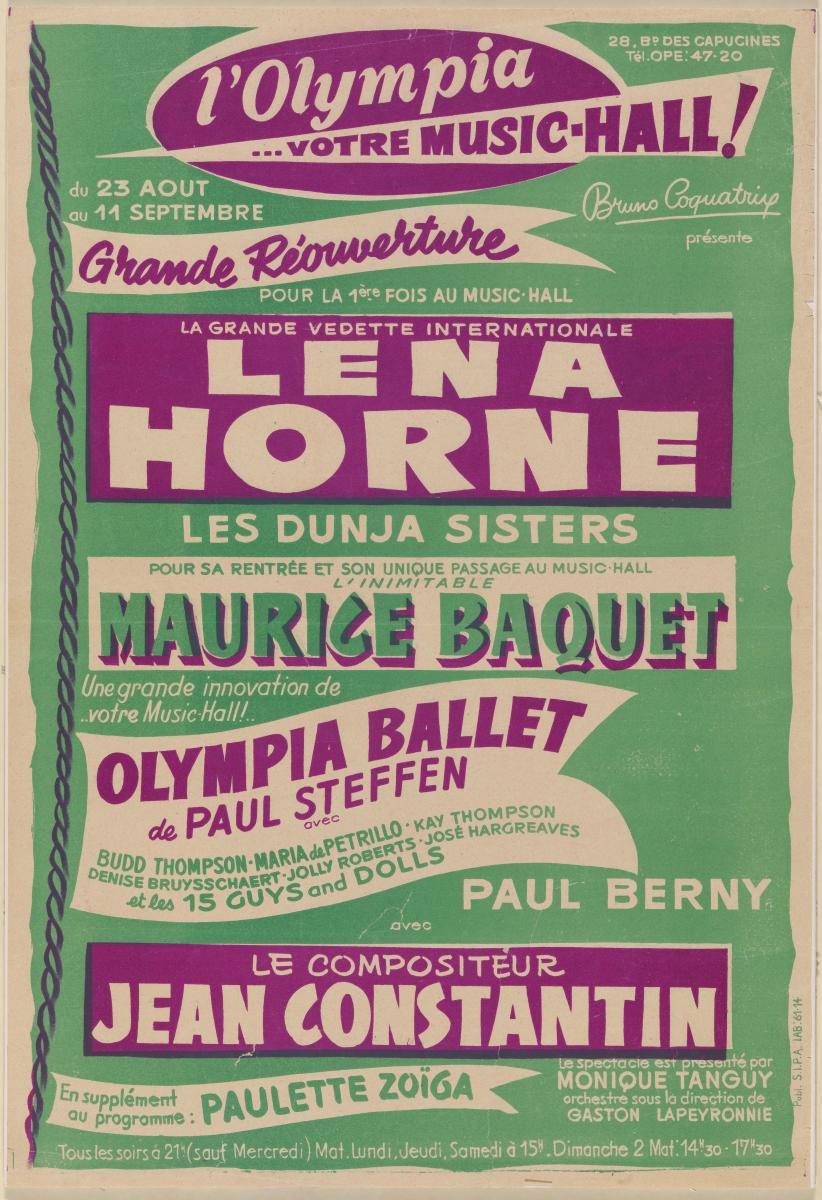 Any story of the global impact and influence of African American music also needs to include explorations of the Afro-diasporic connections that continue to enrich the music of the Americas and the world. African American musicians throughout history have drawn inspiration from African-derived music in the Caribbean and Latin America, as well as the African continent itself.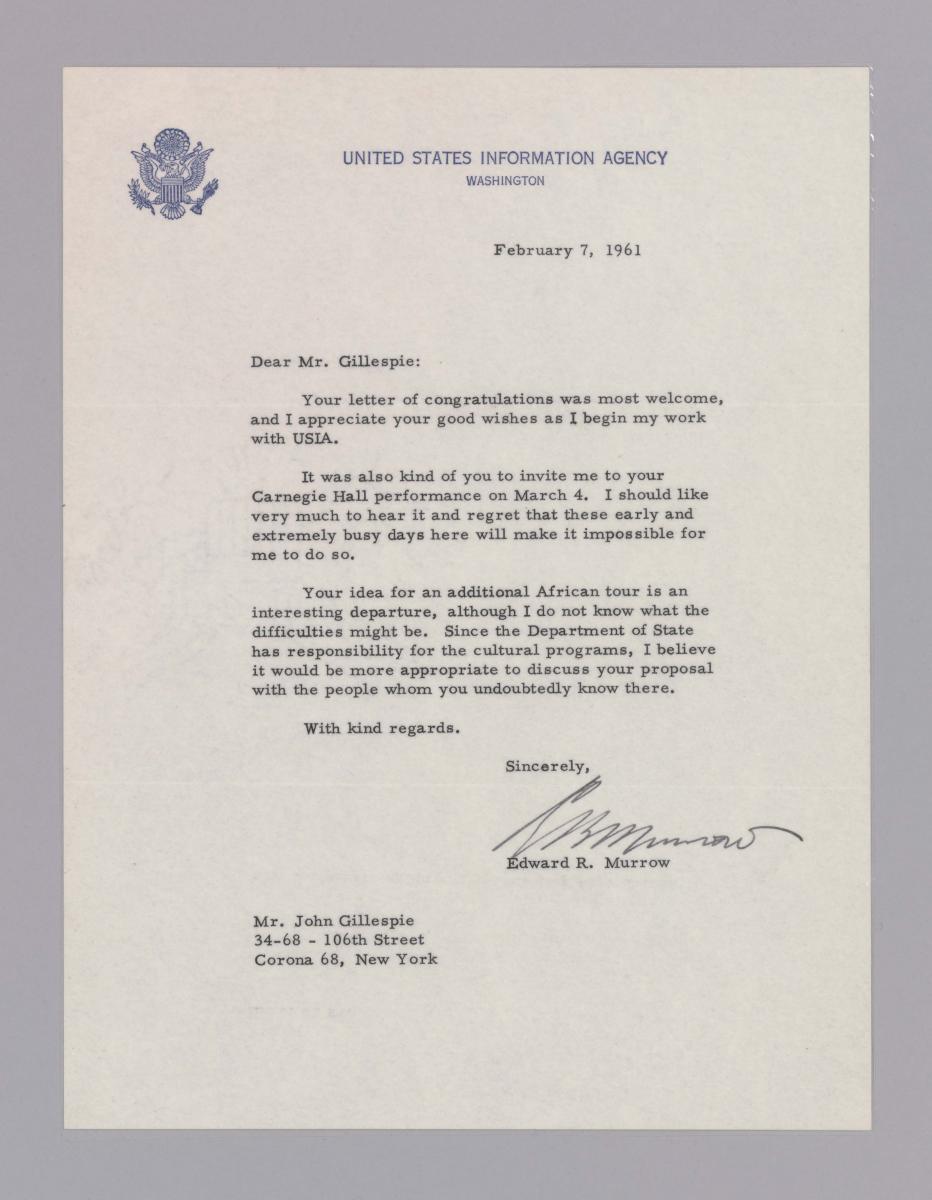 Trumpeter John Birks "Dizzy" Gillespie's embrace of Afro-Cuban music, for instance, was a crucial moment in the development of Latin jazz, and he maintained close ties with Latin American musicians and audiences throughout his long career. Countless black musicians from elsewhere in the diaspora have made their mark on American music history. Born in the Virgin Islands in 1889, composer and bandleader Alton Adams became the first black bandmaster in the United States Navy in 1917.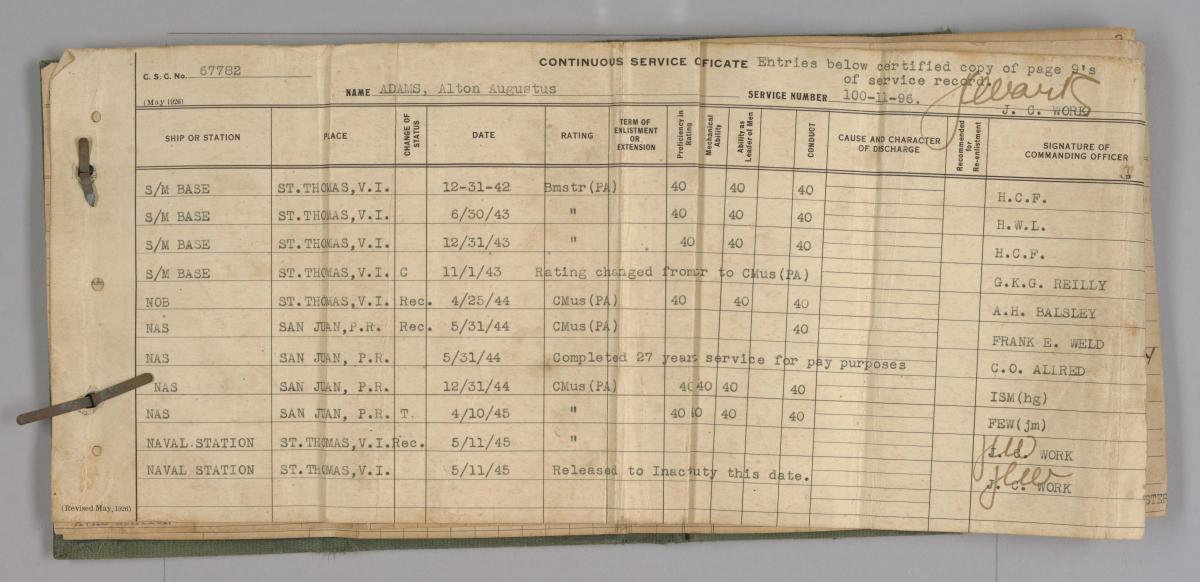 Even more influential was Cuban-American salsa legend Celia Cruz, whose dress is featured in the Musical Crossroads gallery.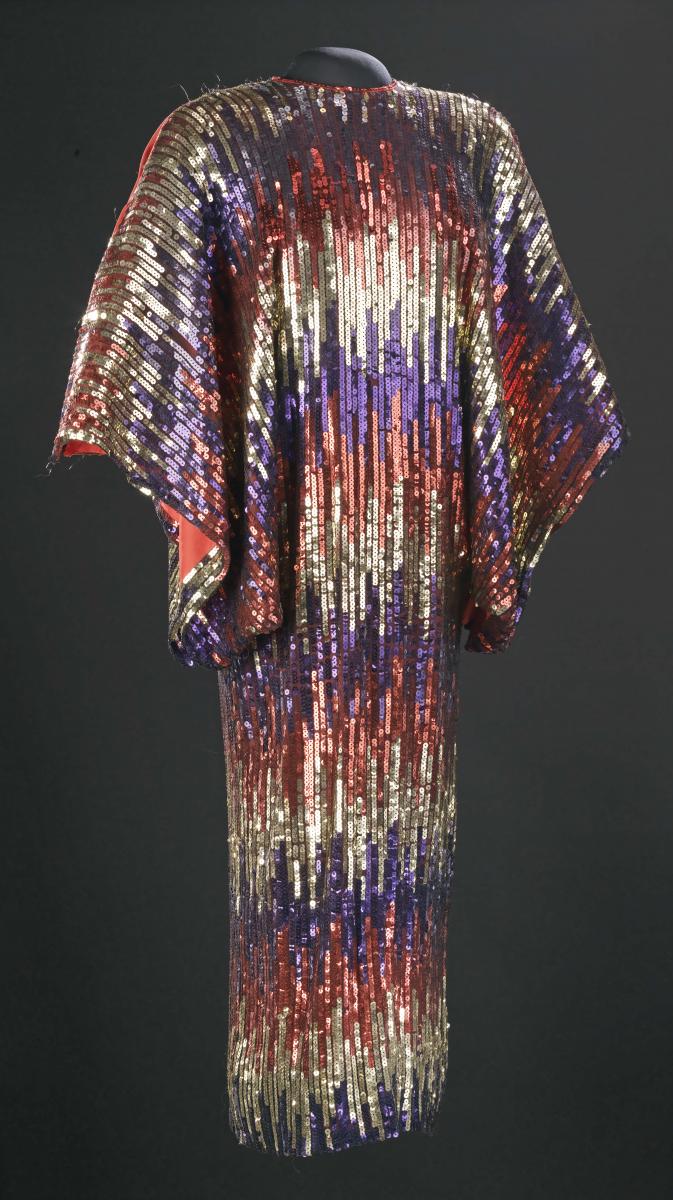 The Musical Crossroads gallery uses the NMAAHC's incredible array of artifacts to explore and celebrate the rich African American musical legacy.  Featured objects ranging over centuries of creativity, struggle, and triumph tell the stories of African American artists and communities whose songs rang out despite America's long history with systemic racism. Despite these circumstances, these musicians—famous, obscure, and unknown—continue to be the wellspring of America's musical heritage.