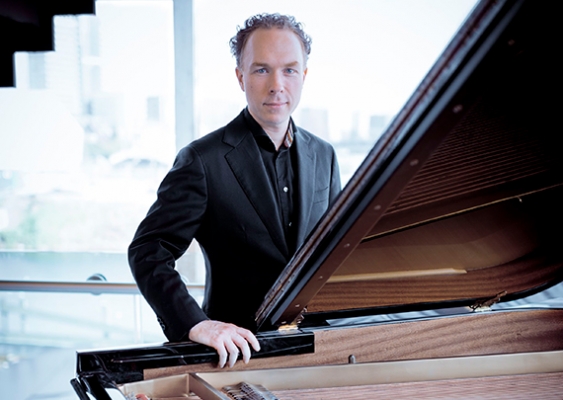 Music of Toru Takemitsu and Tan Dun: Ralph Van Raat, piano
Presented at the Freer|Sackler Galleries
These program notes and audio recording originally appeared on the Freer|Sackler podcasts website. 
Listen to the recording of the concert by clicking here.
Program
Music of Toru Takemitsu and Tan Dun
Ralph van Raat, piano
Toru Takemitsu
            Litany (1989)
            Piano Distance (1961)            
            For Away (1973)
            Les Yeux Clos (The Closed Eyes, 1979)
            Rain Tree Sketch (1982)
Tan Dun
            Eight Memories in Watercolor (1978)
            Traces (1989, rev. 1992)
            C-A-G-E (1994)
            Dew-Fall-Drops (2000)
Notes
Related images can be viewed on the Freer|Sacker podcasts website.
Toru Takemitsu
"Music is either sound or silence. As long as I live I shall choose sound as something to confront a silence. . . . The work of inventing and constructing music really holds no interest for me. I want to carve away the excess sound finally to grasp the essential single sound." Toru Takemitsu (1930‒1992) laid out the essence of his musical philosophy in one of his early essays, and it is clearly heard in his piano works. In contrast to a Western concept of musicianship, where effortlessness in performing or composing is considered the pinnacle of technical ability—Takemitsu describes it as "the idea of humans conquering nature"—his music is brought down to its roots. Only if necessary is the silence of nature colored, and then only by sounds with the greatest possible gesture.
Litany
The contrast between a strikingly restrained use of notes and abundant expression is evident in this piano piece, Takemitsu's first publicly performed work. Originally titled Lento in Due Movimenti (1950), it was rewritten in 1989 as Litany. When he wrote the original version, Takemitsu was a virtual autodidact, having taught himself mainly by studying works by Claude Debussy (1862–1918) and Olivier Messiaen (1908–1992), the composers who most fascinated him. The coloristic influences of Messiaen's early piano preludes, with their modal way of writing, are particularly heard in the second movement.
In its rewritten form, which hews closely to the original, Takemitsu dedicated Litany to his friend Michael Vyner, the late artistic director of the London Sinfonietta. The silent darkness and melancholy of the first movement are rarely interrupted by an ascending sound that towers toward heaven, as opposed to the celestially radiant colors of the second movement.
Piano Distance 
Although seemingly indebted to postwar Western avant-garde music at first hearing, Takemitsu's approach to modernism in Piano Distance should be interpreted from his Japanese heritage. With echoes from his inspirational friend John Cage (1912‒1992), the music's textures are sparse, the motifs are short, and the role of silence extends to the point of being as important as sound. Each note has specifically indicated instructions for attack, dynamics, articulation, and decay. Together they mirror the traditional approach to playing the Japanese biwa (lute) or shakuhachi (bamboo flute). In traditional music for these instruments, musical gestures are expressed as much through varying attacks and changing the colors of individual sounds as through melodic relationships between consecutive notes.
For Away
By the time Takemitsu composed For Away in 1973, he was an established name in the world of contemporary music. Not only had he written extensively for Western instruments, but he had also composed new works for Japanese traditional instruments as his interest in his own heritage grew. A trip to Bali in 1972 expanded his awareness of the importance of local music traditions, and he noticed fascinating relationships between traditional Balinese gamelan and Japanese traditional gagaku (court) music. For Away retains echoes of Western modernism, but its melodic lines are made up of interlocking notes that alternate between the pianist's right and left hands, mimicking the interaction of performers in a gamelan ensemble. Although the music flows as freely as water, its effect is relatively static. Such qualities can be attributed to the inspiration of gagaku music. The focus on coloristic sonorities is reminiscent of works by Debussy and Messiaen.
Les Yeux Clos
The poetry and mysticism of Takemitsu's late style is foreshadowed by Les Yeux Clos (The Closed Eyes), which acts as a bridge between his modernist early works and his more tonal-oriented and consonant late works. The title is taken from a symbolist painting by the French artist Odilon Redon (1840–1916) that shows a girl—possibly asleep, possibly dead—with eyes closed and mouth shut. It invoked strong associations with mystery and dreams for Takemitsu. This accounts for the airy flurries of notes (reminiscent of For Away) and stark contrasts between darkness (low notes) and bright light amid music that seems to breathe in waves. Takemitsu's harmonies are relatively consonant, however, and the structure of the piece, with clearly returning motifs, is more transparent than his earlier works. The French word clos has the double meaning of both "closed" and "bell." Here it is musically translated as bell-like, with ascending three-note motifs of three notes each reaching toward heaven.
Rain Tree Sketch
For inspiration, Takemitsu turned to the poem "Cosmic Rain Tree" by the Pulitzer Prize-winning Japanese poet Kenzaburō Ōe (born 1935). The poem describes a cosmic tree that collects rain for times when water is scarce. By this point Takemitsu's late style, with its ever-present tendency toward consonance, was fully crystallized. Articulations and dynamics are meticulously notated to create mysterious and atmospheric sonorities. His concise use of notes makes the A-B-A form clearly evident. Amid an otherwise transient state of circulating water, a repeated pattern of notes in the middle passage suggests raindrops falling from the cosmic tree. The composition is another testimony to the stunning originality with which Takemitsu united two seemingly distant worlds, that of East and West.
Tan Dun
Of all the composers living today, the Chinese American artist Tan Dun (born 1957) stands out as one of the most popular. He has followed his friend and mentor Takemitsu in confronting and combining influences from East and West. They share several similarities in their musical styles, such as a tendency toward consonance; a respect for silence, meditation, and elements of nature in their music; and the musical traditions of their native heritages. Nevertheless, there are also striking differences. Tan Dun generally integrates the influences of traditional (Chinese) music through its concepts and philosophy as well as through the use of traditional Chinese modes or scales. He also tends to combine Western instruments with the playing techniques of Chinese traditional instruments, which often results in unconventional sounds and juxtapositions. Another strong inspiration for Tan Dun are the Chinese martial arts, which he was able to embrace so fully in his Oscar-winning score for Ang Lee's 2000 film Crouching Tiger, Hidden Dragon.
Eight Memories in Watercolor
Although Tan Dun was only in his early twenties when he composed the first version of this piece in 1978, its intensely expressive melodic character, despite its conciseness, is striking. It was written shortly after Tan Dun left his birthplace in Hunan to study at the Central Conservatory of Music in Beijing. The eight sections convey his sense of longing for his home; parts two, three, four, and eight are based directly on his favorite folk tunes from his youth. Despite the heavy influence of Chinese folk music, the tunes are at times accompanied by chromatic, complex chords that underscore the Western music he was studying. The work was published after 2001, when the pianist Lang Lang requested to perform it publicly.
Traces
As with Takemitsu, Tan Dun was profoundly influenced by Western modernism, especially John Cage's ideas about relationships among music, silence, and nature. Traces (1989, revised 1992) can be seen as his own interpretation of Cage's concepts. Written in an abstract modernist language, the work utilizes silence as abundantly as it does sound. Tan Dun's use of melodic and consonant sections makes the piece stand out from works by his Chinese contemporaries, who would not venture into tonality or pentatonic scales. In the context of sound versus silence, the composition repeatedly alternates between flexible, soft, and even sensual sections and loud, metric, and percussive parts. The ancient Chinese (Taoist) concept of the duality of yin and yang, in which no part of life can exist without its opposite, is worked out in sound.
Tan Dun wrote this about the recurrent pitch motif in the piece: 
Once I was riding in a bus through the mountains in south China on a cold day. The windows were almost all closed, but a window near me had a little gap. The wind was whistling in, and I noticed it was singing A-C-D, those three notes. Sometimes the sound would disappear, but it always returned. I discovered that, in between this appearing and disappearing, I was able to notice much more clearly the sounds of river, road, trees, and my own breath. Afterward, I began to find this A-C-D singing everywhere, in birds, folk music, and languages of many cultures. So in Traces, I used A-C-D as the only pitch materials, and I wrote many rests in which to hear clearly the sounds of the natural environment and of yourself. Doesn't this sound like Cage? Two thousand years ago, the Chinese philosopher Laozi said that the greatest sound can be heard only in silence. I think so too.
C-A-G-E
John Cage's influence is even more apparent in Tan Dun's tribute work C-A-G-E from 1994. In this unorthodox piece, Tan Dun discovered a refined balance by finding a direct Chinese voice in an otherwise Western modernist language. As Cage had done in his Sonatas and Interludes for Prepared Piano (1946‒48), in which he placed objects between piano strings to alter the sound, Tan Dun created sounds mainly inside the piano. He called the composition a "fingering for piano" because the strings were struck directly using a variety of techniques, many of which are derived from ways to play the Chinese pipa (lute). By dampening and muting strings at precisely indicated places, with bare fingers and/or a china saucer, the piano sound is transformed to such a degree that it actually starts to sound like a different instrument. Only on rare occasions is the pianist asked to play the keyboard in a conventional manner. Different combinations of recurrent melodic and harmonic motifs of the notes C, A, G, and E make up the dedicatee's name.
—Ralph van Raat
Performer
Ralph van Raat, piano, made his North American debut in the spring of 2014 with the Los Angeles Philharmonic, performing Messiaen's Oiseaux Exotiques. This performance at the Freer Gallery marked his East Coast debut. He appeared in China in late 2013, performing Tan Dun's Banquet Concerto with the Guangzhou and Shenzhen symphony orchestras, with the composer conducting.
Van Raat has performed as a soloist with the London Sinfonietta, the BBC Symphony Orchestra, the Royal Concertgebouw Orchestra, the Rotterdam Philharmonic Orchestra, the Netherlands Radio Philharmonic Orchestra and Radio Chamber Philharmonic, the Radio Symphony Orchestra of Frankfurt, the Aarhus Symphony Orchestra, and the Dortmunder Philharmoniker. In 2010 he was artist-in-residence of the Netherlands Symphony Orchestra.
His solo recitals have taken place at important festivals in Hong Kong and throughout Europe, such as the Gergiev Festival, the BBC Proms, the Festival International de Musique de Besançon, the Holland Festival, the Time of Music festival in Viitasaari, Finland, the Huddersfield Contemporary Music Festival, and the Berliner Festspiele. Van Raat's many competition successes include second prize and Donemus Prize (for contemporary music) at the Princess Christina Competition (1995); the Stipend-Prize Darmstadt during the Internationale Ferienkurse für Neue Musik in Darmstadt (1998); first prize at the International Gaudeamus Interpreters Competition (1999); the Philip Morris Arts Award (2003); the Elisabeth Everts Prize (2005); the International Borletti-Buitoni Fellowship (2005); VSCD Classical Music Prize (2005); the Fortis MeesPierson Award of the Concertgebouw, Amsterdam (2006); and the Prijs Klassiek of the Dutch radio and television broadcaster NTR (2010).
Since December 2006, Van Raat has had an exclusive contract with the international record label Naxos. His first recording for Naxos was the complete piano works of John Adams, which was awarded top ratings by Chicago Time Out, Le Monde de la Musique, and the monthly magazine Luister. Gramophone highlighted it as the CD of the Month. His second recording, of Frederic Rzewski's The People United Will Never Be Defeated, was labeled a Benchmark CD in BBC Music Magazine. In December 2010, his CD with Hans Otte, Das Buch der Klänge (The Book of Sounds), was chosen as CD of the Week by the Dutch national radio. His recording of Arvo Pärt's piano music received a five-star rating in BBC Music Magazine. His most recent recording of piano duo works by Debussy and Messiaen was nominated for the Spellemannsprisen award, the Norwegian equivalent to a Grammy award. In addition to these distinctions, many composers have dedicated piano compositions to Van Raat, and Gavin Bryars and Frederic Rzewski have written new piano concertos for him.
Van Raat teaches contemporary piano music interpretation at the Conservatory of Amsterdam. He regularly gives master classes, lectures, and workshops at the conservatories of Tirana, Nizhny Novgorod, Kiev, the Ligeti Academy of the ASKO/Schönberg Ensemble, and for many foundations and universities. He studied piano at the Conservatory of Amsterdam and musicology at the University of Amsterdam. During his piano studies, Van Raat was admitted to the Provision for Outstanding Musicians, a special training course offered alongside the regular curriculum.
Credits
Podcast coordination by Michael Wilpers, F|S manager of performing arts. Thanks to Andy Finch and SuMo Productions for audio recording and editing, Nancy Eickel for text editing, Torie Castiello Ketcham for web design, and especially the artist for granting permission to share his performance at the Freer Gallery.
The Bill and Mary Meyer Concert Series was established in memory of Dr. Eugene Meyer III and Mary Adelaide Bradley Meyer. It is generously supported by Elizabeth E. Meyer, Melissa and E. Bradley Meyer, the New York Community Trust—The Island Fund, the Bill and Mary Meyer Concert Series Endowment, and numerous private donors.
https://www.freersackler.si.edu/podcast/music-of-toru-takemitsu-and-tan-dun-ralp...