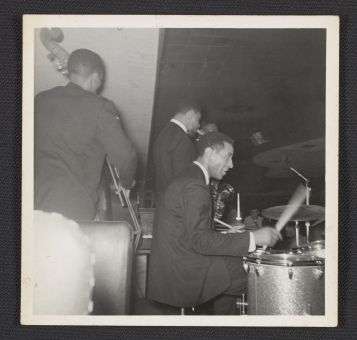 by Elizabeth Botten, Archives of American Art
I was once lucky enough to see Max Roach play live. On November 13, 1999, some friends and I went to the Library of Congress in Washington D.C. to hear the Beijing Trio—pianist and composer Jon Jang, ehru player JieBing Chen, and Roach on drums—who presented the world premiere of "The Temple of the Drum, an offering to Max Roach." Jang, the composer of the piece, was influenced both by traditional Chinese folk music and jazz masters such as Duke Ellington; it created an unusual sonic landscape that was very interesting to my ear. When I look back on that evening, however, I don't remember much about how the piece or the trio sounded; I was mesmerized just by watching Max Roach play. From the moment he began to gently hit the trap set with his sticks, a smile came over his face that I recognized from the many photographs I had seen of him performing. Roach was immersed in the pleasure of music making, and he was clearly enjoying himself.
My next "encounter" with Max Roach came through my work at the Smithsonian's Archives of American Art. With over twenty million items, the Archives is the world's largest repository for primary source material which documents the history of the visual arts in the United States. One of the most interesting things about working with such a large collection is that there is an abundance of interesting material to be found which isn't limited to art. Many artists find inspiration for their work in history, science, literature, philosophy, and music, among many other influences, and this is reflected in their personal papers. Painter Gertrude Abercrombie (1909-1977) was one such artist. After studying romance languages at the University of Illinois, she took figure drawing at the School of the Art Institute of Chicago and trained in commercial art at American Academy of Art. She was also a skillful improvisational pianist. Abercrombie lived on the south side of Chicago and was immersed in the Hyde Park art scene there. During this period, she developed friendships with many well-known jazz musicians she met through her second husband Frank Sandiford (a music critic who wrote under the pen name Paul Warren).
Abercrombie's papers are full of photographs of jazz artists including: Dizzy Gillespie (a close friend of hers and Sandiford's), Charlie Parker, Sarah Vaughn, Earl "Fatha" Hines, and Coleman Hawkins. It was in these papers that I stumbled across a snapshot of a young Max Roach playing with George Morrow, Sonny Rollins, and Kenny Dorham.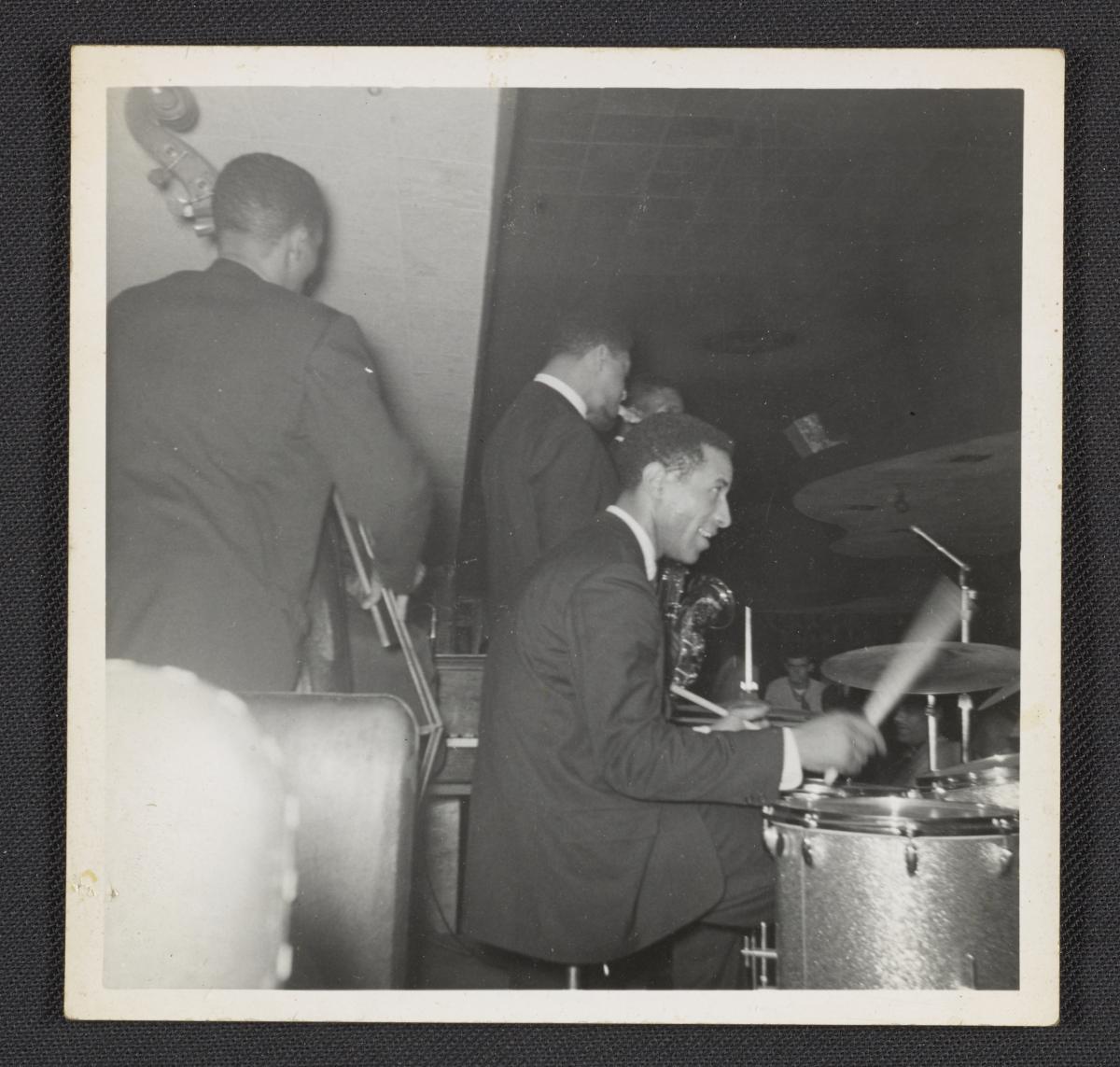 George Morrow, Max Roach, Sonny Rollins and Kenny Dorham on stage], 196-? / unidentified photographer. Gertrude Abercrombie papers. Archives of American Art, Smithsonian Institution.
It is not a skillful photograph: it is blurry, Morrow's and Rollin's backs are to the camera, and the print is so dark one cannot even make out Dorham in the image. But the moment I came across it this photo jumped out at me: there was Max Roach, joyfully playing away with bright eyes and a wide smile. It was the same smile I recognized from that November evening a few years before. Holding the picture in my hand took me right back to the real thing. And, today, it remains one of my favorites out of all the photographs held by the Archives.
Elizabeth Botten is a reference specialist at the Archives of American Art and the managing editor of the Archives of American Art Blog. In 2014 she curated the exhibition "Artists and Their Models" for the Archives' Lawrence A. Fleischman Gallery. She is a classically trained pianist, but loves music of all types/genres/kinds.