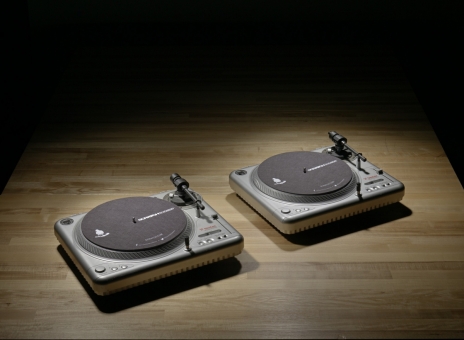 In the years between the invention of the phonograph and the rise of digital audio, aural playback devices were considered to be a one-way form of communication. The media they played back was fixed and finalized, ready for passive consumption. As the inventor of the needle drop, and the primary innovator of "the scratch," Grand Wizzard Theodore helped to shift this mindset by lifting the stylus out of the entrenched path of the groove—dropping it down on other parts of the record, shifting its direction into reverse and back again, slowing down its motion and speeding it up. Based in part on his innovations, freed from the shackles of a non-responsive medium, DJs could suddenly respond to their live audiences in real-time, and in particular to the body language of dancers, bringing pre-recorded music back into the ebb-and-flow of oral tradition.
Granted, long before the birth of hip hop, there were a handful of avant-garde composers who willfully subverted the "fixed object" status of sound recordings. Seeking to break with tradition, composers like John Cage and Pierre Schaeffer took recorded artifacts and playback devices (radios, record players, etc.) and tried to turn them into experimental musical instruments. Still, the first wave of hip hop DJs did something unique in comparison. Unlike the avant-gardists, DJs like Grand Wizzard Theodore, Kool Herc, Grandmaster Flash, and Afrika Bambaataa kept the groove going even after they removed the needle from the groove. Their music was danceable despite being experimental. It flowed even though it was built on rupture. It could be just-as-if-not-more-funky than the source materials it was built on. And it all began with the reinvention of the wheel—that is, the "wheels of steel", i.e., two turntables placed in mutual musical dialogue. In taking this object out of its familiar "groove" and dropping it into another one, the record player was made amenable to an entirely new cultural and aesthetic matrix.
In the video below, Theodore demonstrates his needle drop technique. But to the general public he is better known for being the primary innovator of record "scratching." The origin story of scratching is well-known today. In an interview with rap radio DJ Billy Jam, he describes it this way:
I used to come home from school and go in my room and practice a lot and this particular day I came home and played my music too loud and my mom was banging on the door and when she opened the door I turned the music down but the music was still playing in my headphones and she was screaming 'If you don't turn the music down you better turn it off' and I had turned down the speakers but I was still holding the record and moving it back and forth listening in my headphones and I thought 'This really sounded something....interjecting another record with another record.' And as time went by I experimented with it trying other records and soon it became scratching.
The sound that was inadvertently produced by Theodore's interaction with his mother led to the distinctive, futuristic-sounding rhythmic and timbral effect of the scratch, a sonic innovation added to the DJ's arsenal; a new innovation created using an old technological device playing (for the most part) old records.
Record scratching is now part of the familiar sonic vocabulary not just of hip hop but also of electronic dance music, ranging from big beat anthems to melancholy trip hop tracks, and also mainstream pop hits like Hanson's "MMMBop" as produced by the Dust Brothers. In taking an object once viewed as the very antithesis of "creative," with the record player as delivery mechanism for "canned music," and showing that in the right hands it could be just as flexible and adaptable as a standard musical instrument, a revolution of sorts was begun. And so it's fitting that scratching itself has been adapted in so many musical settings over the years.
In the book Hop-Hop DJs and the Evolution of Technology, Andre Sirois describes DJ culture as being "founded on the notions that text and technology are manipulable." When "hip hop DJ culture uses consumption as the starting point for production," it "create[s] the meanings/uses of texts and hardware rather than accepting what is created by industries." Through this "manipulation and...re-coding of recorded sound technology," the DJ "undermines the read-only ideology of sound reproduction encoded into vinyl records and turntables," an ideology derived "from more than 100 years of standardization and the exploitation of intellectual property rights by corporations" is subverted. There's an obvious political dimension to this argument, where an object can be used and consumed in a way that undermines the underlying power relations through which it was created, distributed, and sold. But the object, and the conditions of its production, must be bought and "bought into" before this subversion can take place—resulting in a kind of consumerist double-consciousness that may likely have special resonance for many people of color (consider, for example, how the name "Grand Wizzard Theodore" borrows a white supremacist title only to subvert it).
This resonance has been seized upon in hip hop, in particular, when it comes to the turntable-as-object. As the stylus moves across the spiraling groove of the vinyl record, both linear and repetitive, it enacts a form of movement that echoes Black American history, where progress in civil rights has been repeatedly offset by the reincarnation of past travesties, reborn in new guises. On a more mundane level, it also echoes the back-and-forth interplay between consumption and production in hip hop, the disembedding and reembedding of found sounds in the music, the push-and-pull of rhythmic syncopations that define the music and its funky forebears, and the fuzzy line between innovation and repetition that's at the heart of the creative process. These and other circular structures, movements, and aesthetics have long played a central role across the multiple pillars of hip hop: from call-and-response vocal interplay to the DJ riding the wheels of steel; from looped breakbeats to emcees battling in a cypher; from dancers' uprocking and downrocking, executing headspins and backspins, to the rounded bubble letters of graffiti artists; and finally, in the very name of hip hop itself ("When you say hip, I say hop!"). There could be no better visual metaphor for all of this than Grand Wizzard Theodore's turntables—objects than helped spawn a whole new process of music-making, a process rooted in the give-and-take interplay between music-as-artifact and music-as-oral-tradition.
---
Written and compiled by Jason Lee Oakes, Editor, RILM
The post was produced through a partnership between the Smithsonian Year of Music and RILM.
Additional Resources
Chang, Jeff. "Needle to the Groove: Snippets from an Omnidirectional History." In The Record:
Contemporary Art and Vinyl, edited by Trevor Schoonmaker, 116–119. Durham: Duke
University Press, 2010.
The article recounts the accidental invention of "the scratch" by Bronx DJ Grand Wizzard Theodore, going on to survey the DJ's power to conjure alternative worlds of space and time--worlds where sound, not geography or chronology, binds the universe. These worlds, however, are endangered by the culture industry and its ownership (in many cases) of the sonic raw materials used to transform time and space, a claim to ownership that is constantly and creatively subverted by collectors, crate diggers, and DJs.

D'Arcangelo, Gideon. "Recycling Music, Answering Back: Toward an Oral Tradition of
Electronic Music." In Proceedings of the International Conference on New Interfaces for
Musical Expression, 55–58. Hamamatsu: NIME, 2004.
This essay outlines a framework for understanding new musical compositions and performances that utilize pre-existing sound recordings. In attempting to articulate why musicians are increasingly using sound recordings in their creative work, the author calls for and shows examples of new performance tools that enable the dynamic use of pre-recorded music such as record scratching and sampling. By using two variable speed turntables connected by a mixer, hip hop DJ began blending recording songs in seamless continuity. Blending and mixing gave way to scratching, or backspinning a record in rhythm. This gave DJs a way to put more of their own musical selves into the playback, featuring their rhythmic skills. Grand Wizzard Theodore is attributed with inventing scratching in 1975. Similar practices emerged concurrently in the New York art world around the same time in the work of conceptual artist Christian Marclay. If recorded sound creates fixed musical experiences that sit in our memory like non-biodegradable plastics, then the digital sampler is a kind of music recycling machine that breaks down, digests and processes these memories for reuse. This points the way to a new form of give and take in creative influence. The sampler has been a first step in re-establishing the process of call and response, familiar from oral traditions, in the all-electronic medium.
Jam, Billy. "Creator of the Scratch." Hip Hop Slam. Accessed August 9, 2019.
http://www.hiphopslam.com/articles/int_grandwizardtheo.html
An interview with the hip hop DJ credited with the invention of the scratch. For someone who lives for scratch music, visiting legendary DJ Grand Wizzard Theodore (GWT)--the creator of the scratch--at his Bronx, New York home could only be compared to an Elvis Presley fan making a pilgrimage to Graceland to visit the King of rock 'n' roll in his day. Like many of the great pioneers of hip hop that created the genre on these Bronx streets three decades earlier, GWT was not rich from a culture that he helped shape and form. But unlike many of his contemporaries from hip hop's seminal years, who are embittered by the fact that they live in comparative poverty/obscurity while contemporary "hip hoppers" are making millions off something they created, GWT is not at all bitter. In fact he is a warm and humble man who is gracious to be a part of a cultural movement that he never thought would spread from the streets of the Bronx to every other corner of the world.
Katz, Mark. Groove Music: The Art and the Culture of the Hip-Hop DJ. Oxford: Oxford
University Press, 2012.
It's all about the scratch in this book about the figure that defined hip hop: the DJ. Today hip hop is a global phenomenon, and the sight and sound of DJs mixing and scratching is familiar in every corner of the world. But hip hop was born in the streets of New York in the 1970s when a handful of teenagers started experimenting with spinning vinyl records on turntables in new ways. Although rapping has become the face of hip hop, for nearly 40 years the DJ has proven the backbone of the culture. Here the author (an amateur DJ himself) delves into the world of the DJ, tracing the art of the turntable from its humble beginnings in the Bronx in the 1970s to its meteoric rise to global phenomenon today. Based on extensive interviews with practicing DJs, historical research, and personal experience, a history of hip hop is presented from the point of view of the people who invented the genre--from the 1970s beginnings of DJ Kool Herc and Grand Wizzard Theodore, to 21st-century Concertos for Turntablists and Academies of Scratch. More specifically, the author focuses on what he calls the "performative DJ": those who not only select recordings but manipulate them in real time for audiences. Interviews are included with figures such as Grand Wizzard Theodore (the man credited with inventing turntable scratching) and DMC-winning turntablist DJ Qbert. DJs step up to discuss a wide range of topics, including the transformation of the turntable from a playback device to an instrument in its own right, the highly charged competitive DJ battles, the game-changing introduction of digital technology, and the complex politics of race and gender in the DJ scene.
Sirois, André. Hip-Hop DJs and the Evolution of Technology: Cultural Exchange, Innovation,
and Democratization. New York: Peter Lang, 2016.
Smith, Sophy. Hip-hop Turntablism, Creativity and Collaboration. Farnham: Ashgate, 2013.
Armed only with turntables, a mixer, and a pile of records, hip hop DJs and turntable musicians have changed the face of music. However, whilst hip hop has long been recognized as an influential popular culture both culturally and sociologically, hip hop music is rarely taken seriously as an artistic genre. This book values hip hop music as worthy of musicological attention and offers a new approach to its study, focusing on the music itself and providing a new framework to examine not only the musical product, but also the creative process through which it was created. Based on ten years of research among turntablist communities, this is the first book to explore the creative and collaborative processes of groups of DJs working together as hip hop turntable teams. Focusing on a variety of subjects--from the history of turntable experimentation and the development of innovative sound manipulation techniques, to turntable team formation, collective creation and an analysis of team routines--the author examines how turntable teams have developed new ways of composing music, defining characteristics of team routines in both the process and the final artistic product. This author also introduces a new turntable notation system and methodology for the analysis of turntable compositions, covering aspects such as material, manipulation techniques, and structure, while also outlining the impact of individual musicians such as Grand Wizard Theodore, Grandmaster Flash, DJ Flare, and DJ QBert.
Stoever, Jennifer Lynn. "Crate Digging Begins at Home: Black and Latinx Women
Collecting and Selecting Records in the 1960s and 1970s Bronx." In The Oxford Handbook of Hip Hop Music, edited by Jason Lee Oakes and Justin D. Burton, New York: Oxford University Press, 2018.
https://www.oxfordhandbooks.com/view/10.1093/oxfordhb/9780190281090.001.0001/oxfordhb-9780190281090-e-1