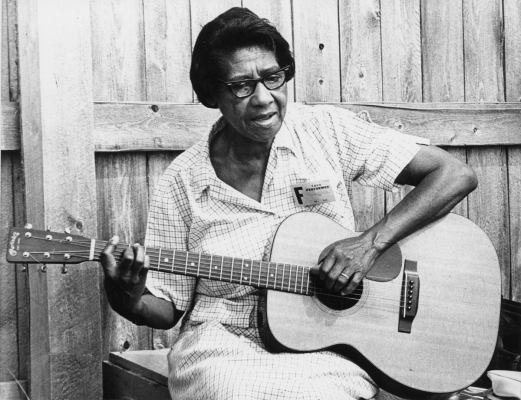 Elizabeth "Libba" Cotten (1895-1987), best known for her timeless song "Freight Train," built her musical legacy on a firm foundation of late 19th- and early 20th-century African-American instrumental traditions. Through her songwriting, her quietly commanding personality, and her unique left-handed guitar and banjo styles, she inspired and influenced generations of younger artists. In 1984 Cotten was declared a National Heritage Fellow by the National Endowment for the Arts and was later recognized by the Smithsonian Institution as a "living treasure." She received a Grammy Award in 1985 when she was ninety, almost eighty years after she first began composing her own works.
Born in Chapel Hill, North Carolina, Libba Cotten taught herself how to play the banjo and guitar at an early age. Although forbidden to do so, she often borrowed her brother's instruments when he was away, reversing the banjo and guitar to make them easier to play left-handed. Eventually she saved up the $3.75 required to purchase a Stella guitar from a local dry-goods store. Cotten immediately began to develop a unique guitar style characterized by simple figures played on the bass strings in counterpoint to a melody played on the treble strings, a method that later became widely known as "Cotten style." She fretted the strings with her right hand and picked with her left, the reverse of the usual method. Moreover, she picked the bass strings with her fingers and the treble (melody strings) with her thumb, creating an almost inimitable sound.
To continue reading and to listen to Elizabeth Cotten's music, visit the Smithsonian Folkways Recordings website...
http://www.folkways.si.edu/elizabeth-cotten-master-american-folk/music/article/s...