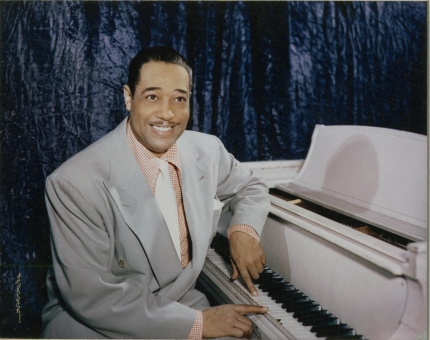 by John Hasse​
 
At the Smithsonian, one musician looms larger than any other: Edward Kennedy "Duke" Ellington (1899-1974).  How fitting, since Ellington was Washington, DC's greatest native son, one of America's leading musicians, an inspiration to many African Americans, and a singular figure in the cultural canon.
Ellington led the pre-eminent jazz big band, wrote more than 1,500 compositions brimming with originality, and evolved into one of the twentieth century's most illustrious musicians.  After several decades of study, I would, in fact, argue that Ellington ranks as America's greatest all-around musician: composer, bandleader-conductor, orchestrator-arranger, soloist, accompanist, recording artist, and musical thinker.  No one did all those things as brilliantly as did Ellington.
He stands as a vital figure in musical history, American history, and African American culture: he was an inspiring leader of his musicians; established a standard for elegance and charm; eloquently championed African American culture through his compositions (for example, Black Beauty; Harlem; Harlem Airshaft; Liberian Suite; and Black, Brown, and Beige: A Tone Parallel to the History of the Negro in the United States); fought musical pigeonholing and racial stereotyping; set an example by taking control of his copyrights and music publishing; and conducted unofficial and official cultural diplomacy for the United States by performing in 65 countries of the world.  His story intersects with those of other musical innovators (from Louis Armstrong to Leonard Bernstein), bandleaders (Cab Calloway and Count Basie), moral leaders (Rev. Martin Luther King, Jr., and the Archbishop of Canterbury), actors (Paul Newman and Sidney Potier), celebrities (Joe Louis and Edward R. Murrow), U.S. Presidents (Johnson and Nixon), and world leaders (Queen Elizabeth II and Ethiopian emperor Haile Selassie).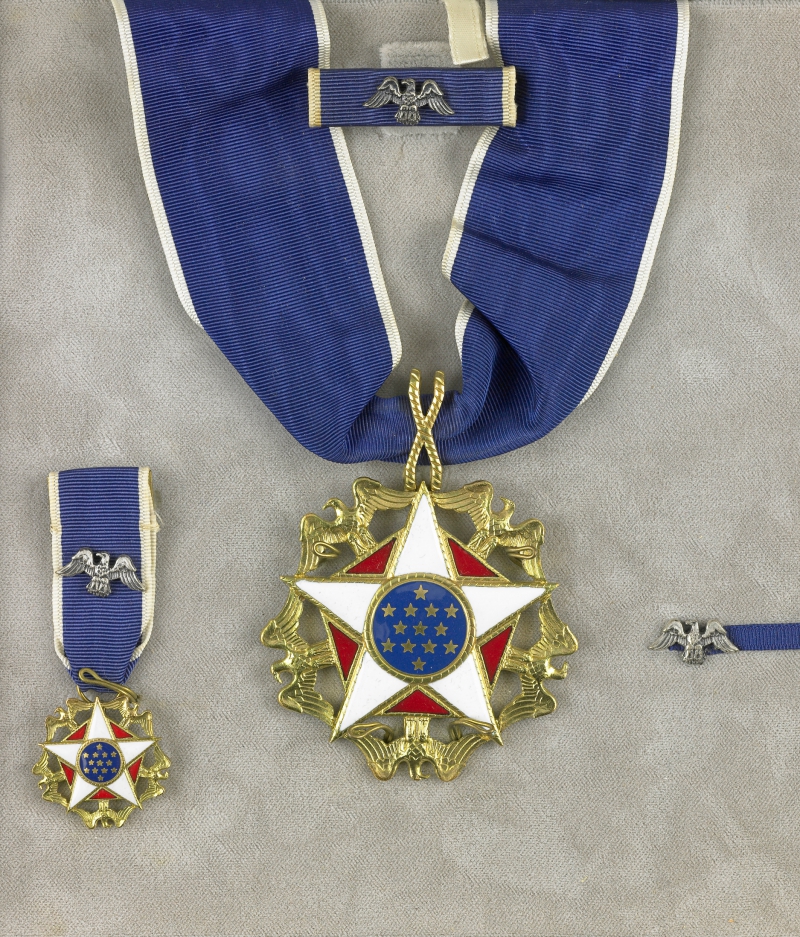 He used the term "beyond category" as the highest possible praise for others, and the phrase richly applies to Ellington, for he led one of the most distinctive and productive musical careers in American history and left a brilliant legacy likely to endure for the ages.
Was Duke Ellington ever actually at the Smithsonian?  Yes, on January 20, 1969, he came to perform at the first inauguration of President Richard M. Nixon.  The concert was held on the second floor of the Museum of History and Technology, which has since been renamed the National Museum of American History.  Did Ellington have the time and inclination to tour the Museum, or other Smithsonian museums?  History is mum on that subject.  
However, in 1988, nineteen years after his visit to the Smithsonian, and fourteen years after his death, the Institution paid him one of its highest honors—when the National Museum of American History acquired a vast trove of his music and objects, thereby implicitly promising to tend to his legacy for the ages.  This staggering collection—which came from his son, Mercer Ellington—includes some 100,000 pages of unpublished scores and band parts that he and Billy Strayhorn composed for the Duke Ellington Orchestra; another 100,000 pages of documents such as band itineraries, financial records, program booklets, and correspondence; a thousand sound recordings; 500 photographs; and 500 objects such as clothing, medals, trophies, and other awards.  The Duke Ellington Collection—the world's leading body of Ellingtonia—has attracted a dozen other collections such as those of his sister Ruth Ellington, his trumpeter Cat Anderson, his cornetist Rex Stewart, his road manager Al Celley, and others.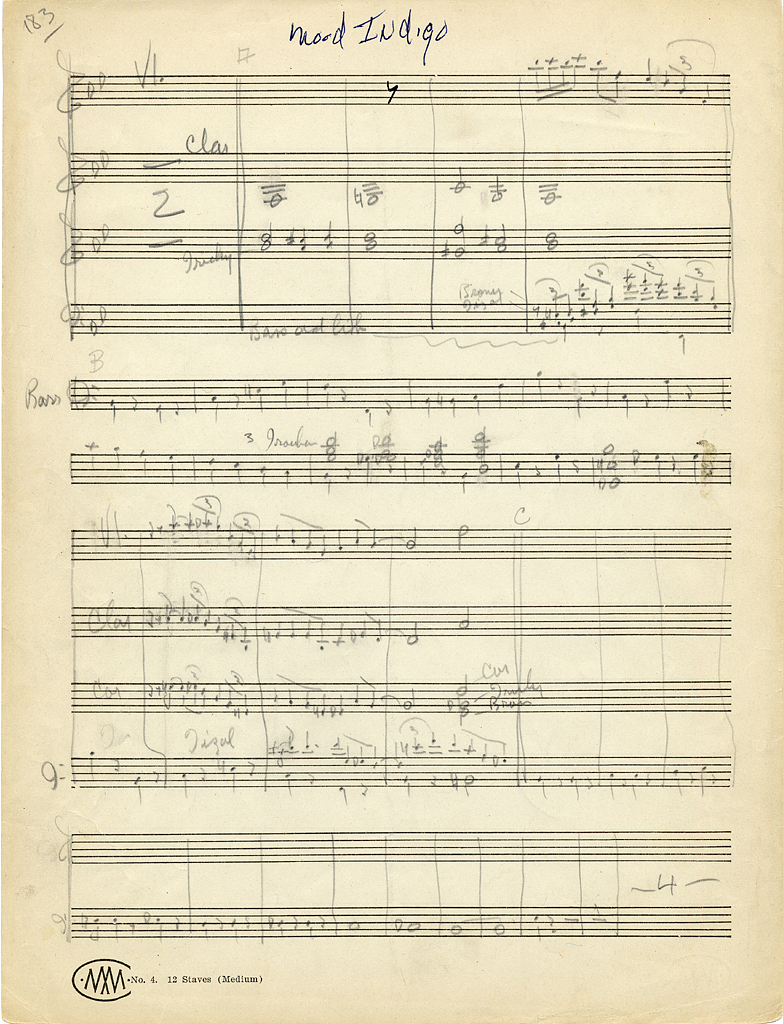 After Ellington's death in 1974, his archives had been hidden away in storage for 14 years.  Once they arrived at the Smithsonian, scholars, musicians, journalists, and graduate students began flocking to the American History museum to undertake research.  Wynton Marsalis, for example, spent two days studying Ellington scores, unlocking for himself the secret of Ellington's instrumental voicings and tone colors.  The collection has drawn researchers from around the world and found its way into doctoral dissertations and books, radio and television series, music editions, and concert programs here and abroad.  The availability of this enormous body of previously sequestered documents sparked much new scholarship on Ellington and, more than anything else, has lifted his position in the American cultural pantheon.
What has the Smithsonian itself done with this body of materials?  A great deal.  The Institution has produced uncounted public programs, issued several recordings of Ellington's music, and published performing editions.  Largely to bring alive the old Ellington scores and parts, it established a resident jazz band, the Smithsonian Jazz Masterworks Orchestra, which, in the course of its 25-year history, has performed several hundred Ellington works at concerts in Washington, across the United States, and in Canada, Europe, and Africa.  Its performances of Ellington have been heard at venues ranging from The White House and Apollo Theater to the Great Pyramids of Egypt, as well as on radio and CDs. 
The American History museum has produced a series of exhibitions on Ellington, the largest of which, created in collaboration with the Smithsonian Institution Traveling Exhibition Services (SITES), was Beyond Category: The Musical Genius of Duke Ellington, toured to ten cities between 1993 and 2000 and spawned a smaller version that toured to 45 venues across the country.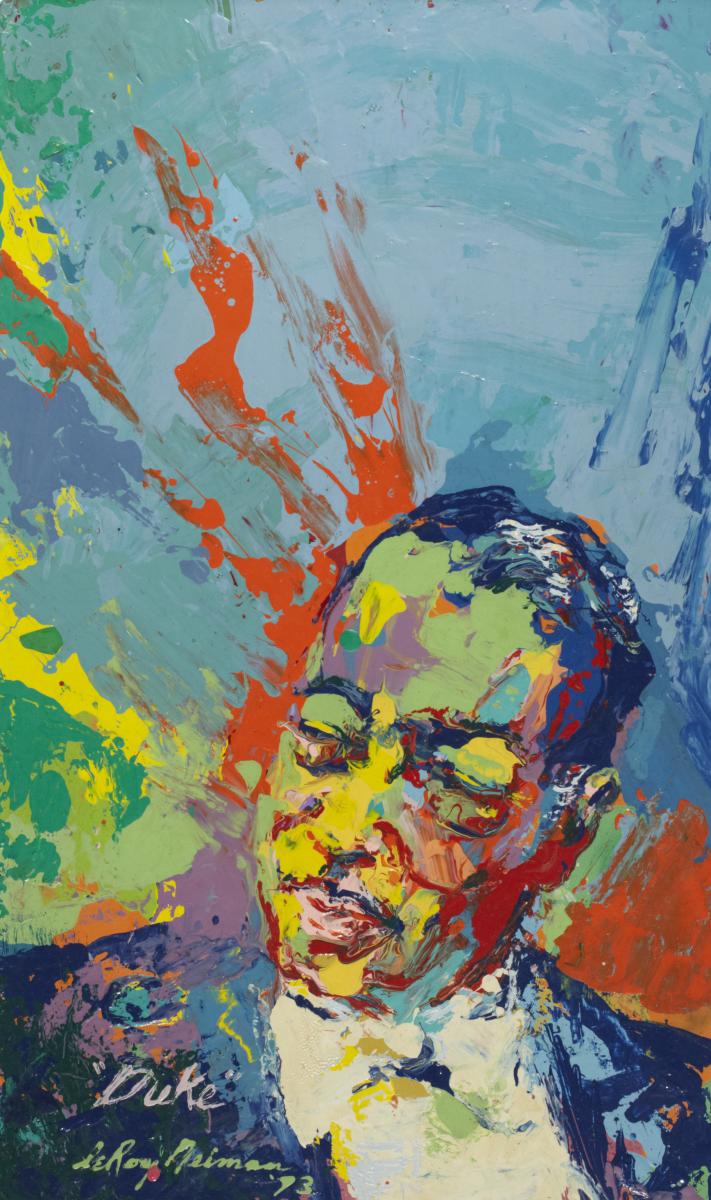 The new National Museum of African American History and Culture preserves photographs, unpublished music sheets, and correspondence from Ellington.  The National Portrait Gallery holds portraits of Ellington by, among others, Tony Bennett, Irving Penn, Philippe Halsman, Gjon Mili, William Gottlieb, Herman Leonard, and Peter Hurd.  And Ellington's music can be heard on the Smithsonian Folkways Recordings label.
---
Want to see Ellington at the Smithsonian?  Currently on public view:
National Museum of African American Culture and History: a manuscript of Mood Indigo, a letter to the musicians union, and an award from Downbeat, all in the Musical Crossroads exhibition.
National Museum of American History: his Wurlitzer electric piano, a portrait of him by Herman Leonard, and LeRoy Neiman's huge group portrait that includes Ellington. 
---
Further resources:
Duke Ellington and Billy Strayhorn: Jazz Composers. Online exhibition. Albert H. Small Documents Gallery, National Museum of American History, 2009.
Hasse, John. "Rare Footage of Duke Ellington Highlights When Jazz and Baseball Were in Perfect Harmony." Smithsonian Magazine. April 1, 2014. 
Duke Ellington Live in '58.  DVD, Jazz Icons, 2007.
The Essential Duke Ellington.  Two CDs, Sony Legacy, 2005.
Harvey Cohen, Duke Ellington's America.  Chicago: University of Chicago Press, 2010.
John Edward Hasse, Beyond Category: The Life and Genius of Duke Ellington.  New York: Simon & Schuster, 1993; Da Capo, 1995.
---
Dr. John Edward Hasse is Curator of American Music at the National Museum of American History, founder of the Smithsonian Jazz Masterworks Orchestra, curator of half a dozen exhibitions on Ellington, and author of Beyond Category: The Life and Genius of Duke Ellington.