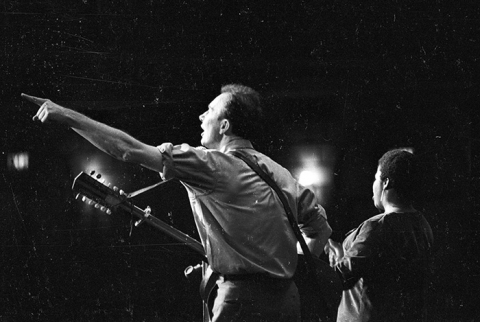 Diana Davies is a well-known photographer of folk performers and festivals. Davies photographed the Smithsonian Folklife Festival in its earlier years. Born in 1938, Davies grew up in Maine, the Catskills, New York City, and Boston. Her grandparents were local union organizers and Debs socialists; one grandfather was a gandy dancer with the railroad, and her grandmother was a textile worker in Massachusetts, New York, and Pennsylvania. Davies finds that her family background was later expressed in her own activist efforts.
Davies left high school at 16, and worked sweeping out coffeehouses, which gave her the opportunity to listen to music while she worked. She became interested in theater and music. In Greenwich Village, she began doing some sound technician work, and then got interested in photography. She taught herself how to develop and print photographs in a darkroom, and began photographing in theaters, shooting from behind the scenes. Her theater photos are at Smith College in Northampton, where she presently lives. In the early 1960s, she began working with the editors of Broadside Magazine, Sis Cunningham and Gordon Friesen. She developed an interest in human rights work, which grew from her contact with Sis and Gordon, and also her own family background. She also worked as a photographer in a wide range of settings, including night clubs, weddings, and doing portrait photography. This led her to work for major national and international media including the New York Times, covering such events as the war in Biafra, and traveling to Mexico, Cuba, and Portugal on assignment.
Davies' folk photographs represent about one-quarter of her body of work; her other major photographic work includes the Civil Rights Movement, the Peace Movement, and theater. Davies began photographing at the Newport Folk Festival in 1964, which she covered for a number of years. She knew Ralph Rinzler, and found him a vibrant, alive person excited by all aspects of culture. He introduced her to Bessie Jones from the Georgia Sea Islands, and in 1966 she made a photographic journey to the islands. Her work from this trip is included in the collection. Davies has also been a musician. She became involved with the punk rock movement of the 1970s, and felt that there was a connection between the hard-hitting songs from the punk world and the songs being published in Broadside Magazine. In 1975, she became part of a folk/punk women's band in Boston, and later moved to Western Massachusetts. In addition to being a photographer and musician, Davies is also a writer. She wrote a play entitled "The Witch Papers" in 1980, which was produced in Boston and other locations. The play was a vehicle for her human rights activism, comparing the technology of inquisition with labor sweatshops. In 1998, her play "The War Machine" was produced in Amherst, Mass. She lives in Northampton, and enjoys and participates in street performance, which she describes as the "most essentially communicative stuff you can come up with."
This is an excerpt from the resource guide for the collection of Diana Davies photographs, 1963-2009, in the Smithsonian Online Virtual Archive. 
The Diana Davies photographs consist of images taken by Diana Davies at various stages of her career. Locations include the Festival of American Folklife, the Newport Folk Festival, the Philadelphia Folk Festival, the Poor People's Campaign, various peace and protest marches and outdoor performances, New York City, and the Georgia Sea Islands. The collection includes contact sheets, negatives, photographic prints, and slides. Original photographs, negatives, and color slides taken by Diana Davies. Materials date from 1963-2009. Bulk dates: Newport Folk Festival, 1963-1969, 1987, 1992; Philadelphia Folk Festival, 1967-1968, 1987.