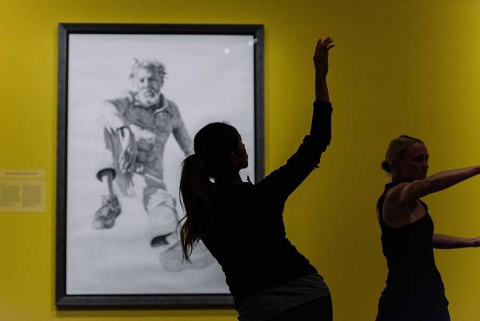 Dana Tai Soon Burgess is the National Portrait Gallery's first choreographer-in-residence. Learn more about his perspectives on being a performance artist in a visual art museum and the inspiration behind Margin, his first commissioned performance in his new role.
How did your work develop from idea to execution?
I was inspired by six portraits from "The Outwin 2016" exhibition—Shannan by Maureen Drennan, Deported by Louie Palu, Florence and Daniel by Evan Baden, James, Post-Wirral Fight by Jona Frank, Arthur Dreams of India by Lucy Fradkin, and Mavis in the backseat by Cynthia Henebry. Each portrays a young person in a moment of self-reflection. The implied, underlying narratives are what fascinated me to choreograph Margin. This work has a cast of nine modern dancers from my company. The theme of Margin relates to issues that face our young people today: issues of gender, sexuality, race, socioeconomic disparity, and immigration. I began by working with the dancers on improvisational movement phrases that were individualized to each portrait. These phrases became a set movement language. I create choreography out of phrase much the way an author builds sentences into a chapter and ultimately into an overall novel. The audience may want to look for theme and variation, motifs, and think about the overarching ebbs and flows of the work. The choreography presupposes that the six portraits can communicate with each other or interact/dance together. This suite of dances are tied together by the character seen in Drennan's photograph Shannan. For me, Shannan is a resilient voyeur who recognizes inequity and emotional traumas. But instead of ignoring these issues, she chooses to heal her community and engage with the human condition. The costumes by Judy Hansen will also reference the portraits themselves. At the last rehearsal, on October 15, I linked the sections together for the first time.
How does this performance fit into your larger body of work?
I investigate personal stories in order to illuminate our shared human experiences through dance. Because the Portrait Gallery focuses on the art of portrayal and stories of America, I believe the works I am creating there will fit seamlessly into the rest of our repertoire. I do feel that my work at the museum seems more abstract than my previous works, and this abstraction allows me more freedom to explore and grow as an artist. The works I create at the museum also tour and are restaged for a proscenium stage. So the museum itself is an arts incubator for my work. 
What is it like being the museum's first choreographer in residence for a visual arts museum?
I am honored to be the choreographer for a visual arts museum. I love working at the National Portrait Gallery because it gives me a better understanding of artistic fluency—the interconnection between the visual arts and dance. My mother is a visual artist and my father, now deceased, was as well. I grew up surrounded by paintings, photographs, and textiles. Being at the Portrait Gallery feels like a homecoming. It inspires me to interpret the visual through movement. I can give the museumgoer an experience that helps them interpret the art in a visceral way.
This video was originally published on the National Portrait Gallery's YouTube channel on March 3. 2017.
The interview was originally published on the National Portrait Gallery's blog, Face to Face.