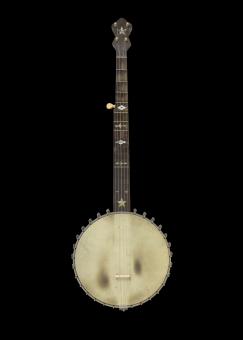 The banjo is an instrument that sits at the crossroads of American culture. The legend of the crossroads is often framed in terms of a Faustian bargain—a site where deals are struck with powerful yet potentially malevolent forces. This fable's best-known manifestation is set almost a hundred years ago when bluesman Robert Johnson is said to have visited a road-crossing in rural Mississippi to have his guitar tuned by a mysterious figure, usually thought to be the Devil. At the crossroads, Satan grants Johnson an otherworldly talent, and access to worldly pleasures, in exchange for selling his soul. Although the story was never related by Johnson himself it will forever be seen as a crucial part of his legend, where the crossroads' perceived power as a liminal, transformative space, a space of both possibility and danger, resonates with audiences to this day.
This resonance may have something to do with how the origin story above aligns with the origin story of America—and how flexibly the crossroads narrative can be interpreted by different individuals and social groups. In Beyond the Crossroads: The Devil and the Blues Tradition, Adam Gussow describes how the Devil-at-the-crossroads legend was born out of a collision between cultures, religious systems, and musical traditions not accorded equal status:
Some of the confusion on this [origin story] has to do with the way two different folklore streams, one from Europe (featuring the biblical devil, Satan) and one from Africa (featuring a pair of related crossroads trickster deities, Esu and Legba), seem to have fused on American soil, coalescing into a folktale that was well known in African American communities below the Mason-Dixon line. A Christian/Manichean worldview that understands the devil as the wholly evil antagonist who claims wayward souls doesn't smoothly align with and subsume an African worldview that understands Esu and Legba as figures of constructive disorder who are also, when properly petitioned, teachers and guides.
In historical terms, much more than the guitar, the banjo is the best example of an instrument that's forever been caught between colliding vectors of American culture—black and white, masculine and feminine, rural and urban, among others. The instrument served as a means of preserving and syncretizing various African aesthetics and belief systems among African-Americans, and also served as an emblem of cultural crossover and collaboration with Anglo-Americans; but equally, it was used as a tool of cultural exploitation, serving as an emblem of racist slander and stereotyping through its use in blackface minstrelsy in particular.
The following bibliographic sources deal with these overlapping currents in all their complexity—from the banjo's seemingly inescapable linkage with slavery, to the near erasure of this linkage through white appropriations of and claims to the instrument, to the never-ending series of revivals and reclamations that navigate this rocky terrain—an instrument that perhaps more than any other tells the story of America, its potential and peril represented equally across a span of centuries. As always, the devil is in the details.
---
Conway, Cecilia. "African Banjo Echoes in Appalachia: A Conclusion." In From Jubilee to Hip Hop: Readings in African American Music, edited by Kip Lornell, 15–22. Upper Saddle River: Prentice-Hall Education, 2010.
The banjo has long signified at the crossroads of the South and today remains a symbol of the mountain musician. The 20th-century folk banjo tradition, indeed, has persisted most strongly among southern mountain whites who continue to play on homemade banjos. Importantly, this living tradition is the complex result of more than a century and a half of exchange between African Americans and others. But the early written records prove that, even a century before the exchange began, blacks had brought the banjo with them from Africa. With a homemade banjo, driving rhythms, and sliding notes, the distinctive aesthetic of African-American musicians shaped the playing styles and song forms of their identifiable repertory and influenced white musicians. Even though African Americans have played banjos for more than two centuries, researchers have located, interviewed, and recorded very few in this century. Thus, North Carolina musicians such as Dink Roberts, John Snipes, and Odell Thompson are historically crucial, for, like the African griots, they have been the "praise singers" and have carried on some of the most important aspects of traditional culture: genealogy, rites of passage, and healing. Their traditions and practices have provided a means for reaching beyond the written records to an understanding of a continuous strand of African-American musical culture, its impact upon white tradition, especially in the Southeast and in Appalachia, and its contribution to American folk music. (author)
Dubois, Laurent. The Banjo: America's African Instrument. Cambridge: Belknap, 2016.
The banjo has been called by many names over its history, but they all refer to the same sound—strings humming over skin—that has eased souls and electrified crowds for centuries. This book invites us to hear that sound afresh in a biography of one of America's iconic folk instruments. Attuned to a rich heritage spanning continents and cultures, the author traces the banjo from humble origins, revealing how it became one of the great stars of American musical life. In the 17th century, enslaved people in the Caribbean and North America drew on their memories of varied African musical traditions to construct instruments from carved-out gourds covered with animal skin. Providing a much-needed sense of rootedness, solidarity, and consolation, banjo picking became an essential part of black plantation life. White musicians took up the banjo in the 19th century, when it became the foundation of the minstrel show and began to be produced industrially on a large scale. Even as this instrument found its way into rural white communities, however, the banjo remained central to African American musical performance. Twentieth-century musicians incorporated the instrument into styles ranging from ragtime and jazz to Dixieland, bluegrass, reggae, and pop. Versatile and enduring, the banjo combines rhythm and melody into a single unmistakable sound that resonates with strength and purpose. From the earliest days of American history, the banjo's sound has allowed folk musicians to create community and joy even while protesting oppression and injustice. (publisher)
Eacker, Susan A. and Geoff Eacker. "A Banjo On Her Knee. I: Appalachian Women and America's First Instrument." The Old-Time Herald: A Magazine Dedicated to Old-Time Music 8, no. 2 (winter 2002): http://www.oldtimeherald.org/archive/back_issues/volume-8/8-2/full-banjo-on-her-knee.html.
In an article titled "In Praise of Banjo-Picking Women" published over 10 years ago in the pages of The Old-Time Herald, Mike Seeger noted that in his fieldwork with "old-timers" in the Southern mountains, he had been told that their fathers and mothers played the banjo before the turn of the 20th century. Seeger went on to ask, "Why do we not have accounts of this—either visually or in the literature?" This article is a long overdue affirmation of Seeger's findings and a response to his question. It was only after we began our research that we learned that most of these men had learned to play from a female relative. An extensive list includes such luminaries as Ralph Stanley, who learned to play clawhammer style from his mother, Lucy Smith. The fact that so many well-known old-time male musicians have been inspired and influenced by a female in the family should force us to rethink the ways in which banjo music in Appalachia has been promulgated and preserved. The evidence suggests that it was women who have historically kept old-time music—especially banjo and ballads—alive in the hills and hollers of the Southern mountains. The fact that 19th-century Appalachian women banjo players have remained invisible may be because mountain women and men were largely isolated and on the bottom rung of the economic ladder. As social historians can attest, the marginalized leave few records, which may help to answer Seeger's question of why such accounts are hard to come by. What's more, ballad collectors like Cecil Sharp were keen on establishing a Celtic connection between Appalachians and their Northern European ancestors. To this end they sought after unaccompanied ballads with British bloodlines. The banjo was not a link in their musical canon and mountain men and women were discouraged from playing this indigenous instrument, instead encouraged to pluck the dulcimer, erroneously thought to have come from Great Britain. (authors)
Eyre, Banning. "Banjo Adventure." fRoots 31, no. 9 (March 2010): 29–31.
In 2005 Béla Fleck traveled around Africa with his banjo and recording gear, inserting the instrument into music from its point of origin. The trip resulted in a Grammy-winning album, Throw Down Your Heart: Africa Sessions (2008), and transformed Fleck's philosophy of music-making. Fleck has also toured under the banner of the Africa Project, performing with a host of musicians he met in Africa. (Jason Lee Oakes)
Gussow, Adam. Beyond the Crossroads: The Devil & the Blues Tradition. Chapel Hill: University of North Carolina Press, 2017.
The Devil is the most charismatic and important figure in the blues tradition. He's not just the music's namesake ("the devil's music"), but a shadowy presence who haunts an imagined Mississippi crossroads where, it is claimed, Delta bluesman Robert Johnson traded away his soul in exchange for extraordinary prowess on the guitar. Yet, there is much more to the story of the Devil and the blues than these clichéd understandings—linked to culture, the struggle against racism, and the syncretization of European and African religions (especially in the Caribbean and in New Orleans). Thanks to original transcriptions of more than 125 recordings released during the past 90 years, the varied uses to which Black Southern blues people have put this trouble-sowing, love-wrecking, but also empowering figure are exposed. A bold reinterpretation of Johnson's music and a provocative investigation of the way in which the citizens of Clarksdale, Mississippi, managed to rebrand a commercial hub as "the Crossroads" in 1999, claiming Johnson and the Devil as their own. (publisher)
John, Emma. ""White People Are So Fragile, Bless 'Em": Meet Rhiannon Giddens, Banjo Warrior." The Guardian (July 23, 2018): https://www.theguardian.com/music/2018/jul/23/white-people-are-so-fragile-bless-em-rhiannon-giddens-banjo-warrior-cambridge-folk-festival.
A profile and interview with the banjo player, fiddle player, and formally-trained opera singer. On her most recent album, Freedom Highway, Rhiannon Giddens pours fire and fury into powerful songs that target everything from police shootings to slavery, the civil rights era, and Black Lives Matter. Musically, the album reveals the breadth of her musical influences—including soul, blues, gospel, jazz, and zydeco—building on and expanding out from Giddens's work with her Grammy-award winning group, the Carolina Chocolate Drops. In an interview, the musician reveals all about her mission to put the black back in bluegrass (and Shakespeare). She also describes her investigation into the history of minstrelsy, hoping to reclaim a genre that has become associated, in both the US and the UK, with blackface performance: "When you look into the minstrel band in the US and you see banjo, fiddle, and tambourine, you might think they're all 'white' instruments. But the banjo is from Africa, there are one-string fiddles all over the world, and the tambourine comes from frame drums that were brought up from north Africa through the Middle East and Italy. That's world music right there. Musical and cultural ideas have been crossing over forever. My projects are all going towards the theme, 'We're more alike than we're different'." (author)
Marks, Ben. "Strummin' on the Old Banjo: How an African Instrument Got a Racist Reinvention." Collectors Weekly (October 4, 2016): https://www.collectorsweekly.com/articles/how-the-african-banjo-got-a-racist-reinvention.
"What's the difference between a banjo and a lawnmower? You can tune a lawnmower." "What's the difference between a dead skunk in the middle of a road and a dead banjo player in the middle of a road? There are skid marks in front of the skunk." There are entire websites devoted to such banjo jokes, and though they may produce casual chuckles today, these jokes are actually rooted in the racist put-downs that were once directed at black banjo players in America. The latest banjo revival arrives at a weirdly bipolar moment in Western cultural history. On the one hand, the five-string banjo has never been more popular. Winston Marshall of Mumford & Sons plays sold out concerts with a top-of-the-line Deering banjo strapped over his shoulder, as does Scott Avett of the Avett Brothers. On Broadway, Bright Star, which was co-written by the funniest banjo player alive, Steve Martin, enjoyed a spirited, if brief, run. At the same time, racism in the United States hasn't been so naked in decades. What, you might ask, does racism have to do with the banjo, an instrument that for most people is no more controversial than the banjo-heavy theme song for The Beverly Hillbillies? Race is actually central to any conversation about banjos, or at least it should be. That's what makes the banjo so relevant in 2016. This article traces the history of the banjo, and the ways the instrument became bound up with both African-American identity and with the country's virulent history of racism. (author)
McCollough, Sean K. "Hear John Henry's Hammer Ring: Moving Beyond Black and White Images of Appalachian Music." In Kaleidoscope of Cultures: A Celebration of Multicultural Research and Practice, edited by Marvelene C. Moore and Philip Ewell, 93–99. Lanham: Rowman & Littlefield Education, 2010.
Sometimes I feel that I have been put on this earth to teach people one simple fact; the banjo is from Africa. Or, more accurately, the roots of the modern American banjo are traceable back through early African-American instruments to instruments from Africa. It is a simple fact about a well-known American artifact, so simple that it seems it would be common knowledge. But perhaps because the banjo is primarily associated with styles of music such as bluegrass, which are played by mostly white musicians, its origins have been shrouded from the American consciousness. In fact, I am constantly amazed as I teach college classes and travel to public schools across the heart of Appalachia how many students (and teachers!) are not aware of this fascinating and provocative piece of American history. In my work, I am often called upon to talk about the history of Appalachian music or to perform "traditional" music from the region. These seem simple enough tasks on the surface, but simply knowing about the banjo's origins complicates things. When I pull out my banjo or mandolin, I am often met with comments such as, "I love bluegrass. It sounds just like Celtic music. Doesn't it?" Well, yes and no. This article examines how this comment misses the mark in a number of ways. (author)
Murphy, Con. "Stone & Sissoko." fRoots 31, no. 5–6 (November–December): 19.
A profile of the duo--Jayme Stone, Canadian banjo player, and Mansa Sissoko, Malian kora player. Their collaboration on the LP Africa to Appalachia is part of a recent movement returning the banjo to its assumed African source. The record brings together a series of updated West African melodies and occasional bluegrass standards. While it was released with little fanfare in early 2009, it has proven to be one of the year's long-fuse albums, its subtle charms and subtle melodies creeping up and working their way into the imagination over the ensuing months. (author)
Shea, Andrea. "The Banjo's Beauty, and its Cultural Baggage, is on Display in a New Digital Museum." WBUR: The ARTery (April 17, 2019): https://www.wbur.org/artery/2019/04/17/banjo-project-digital-museum.
Marc Fields and his production team are inside historian and collector Jim Bollman's storied Arlington home. Bollman sits patiently on a stool with his rare, pre-Civil War banjo balanced on his knee as they set up their shot. "This room has more banjo history packed per square inch than any place on earth," Fields said. "It's a place I came to when I first started this project and realized how much there is about the banjo which people don't know about and which people should know about." Fields said Bollman's trove of 200-plus instruments, banjo-related artifacts, and cabinets of research provide a unique portal into America's past. For more than 15 years, Fields has been on a quest to capture, share, and contextualize banjo history. Now his work is on display in a new museum. But you don't need to leave the couch to visit because Fields' archive-in-the-making, called The Banjo Project, is all online. The site celebrates the banjo's beauty while tackling its cultural baggage. As ethnomusicologist Greg Adams puts it, "You can't talk about the history of the banjo, if you can't talk about racism, slavery, misogyny, appropriation, exploitation," but the instrument has also been a tool for liberation, as scholar Rex Ellis of the National Museum of African American History and Culture points out. Examples of the latter include the careers of Gus Cannon, Lotta Crabtree, and Rhiannon Giddens. (author)
Winans, Robert B., ed. Banjo Roots and Branches. Urbana: University of Illinois Press, 2018.
The story of the banjo's journey from Africa to the Western hemisphere blends music, history, and a union of cultures. This anthology presents cutting-edge scholarship that covers the instrument's West African origins and its adaptations and circulation in the Caribbean and United States. The contributors provide detailed ethnographic and technical research on gourd lutes and ekonting in Africa and the banza in Haiti, while also investigating tuning practices and regional playing styles. Other essays place the instrument within the context of slavery, tell the stories of black banjoists, and shed light on the banjo's introduction into the African- and Anglo-American folk milieus. On the whole, a wealth of new information is offered to scholars of African American and folk musics as well as the worldwide community of banjo aficionados. (publisher)